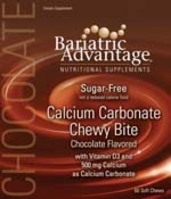 Irvine, CA (Vocus) June 19, 2009
Bariatric Advantage, Division of Catalina Lifesciences will be introducing ten (10) new products at the 26th Annual ASMBS scheduled for June 21-26 in Dallas, TX. "The new products have been developed to meet the growing clinical proof and awareness that appropriate forms of nutrition are important for the immediate and longer term success of the weight loss (bariatric) surgery patient" states Jacqueline Jacques, ND and Chief Science Officer for Bariatric Advantage.
New Products Available on the Market

Calcium Citrate - Chewy Bites
Calcium Carbonate - Chewy Bites
High Potency Vitamin D Emulsion (liquid) - Drops - 10,000IU per drop
High Potency Vitamin A - Capsules
Pre-Operative Multi-Formula - Chewable
Omega 3 Essential Fatty Acids - Chewy Bites
Pre-Market Products for Sampling
Multi-Formula - Crystals
Pro-biotic - Chewable
B-1 Thiamine - Chewable
While at the conference, visit booth #1011 to learn more and to sample these exciting new products. If you are not attending, please contact your local Bariatric Advantage sales representative or contact customer care at customerservice(at)bariatricadvantage.com or 800.898.6888 for additional information on the product -- including pricing and sample availability. Our customer care department is open Monday - Friday from 6:00 AM - 8:00 PM Pacific and on Saturday from 7:30AM to 4PM Pacific.
About Bariatric Advantage:
Bariatric Advantage is committed to the weight loss surgery market including surgical programs, patients, support groups and the allied medical professionals who have dedicated their careers to helping improve the lives of the recovering obese patient. Our philosophy is simple, gather scientific data, provide this data to medical and nutritional experts for their review and analysis, then use this process to guide us in our development of unique nutritional supplements. Finally, we measure and publish the results of the patient experience scientifically through lab and other related tests.
Contact: Jonathan Lloyd, Vice-President of Operations at 800.898.6888 for additional information about the company.
Thomas L. Kinder
Bariatric Advantage
(800) 898-6888
http://www.bariatricadvantage.com/
###