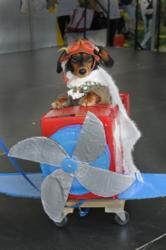 Every Dog Has His Day at Bark in the Park San Jose 2012 on September 15, 2012
San Jose, CA (PRWEB) August 15, 2012
Bark in the Park San Jose 2012, the Largest Dog Festival in the United States, invites dogs and their owners to this premier dog and family oriented event. Happy dogs and their owners will gather on Saturday, September 15, 2012 at Bark in the Park San Jose, 10 a.m. to 5 p.m. at William Street Park (Corner of E. William Street and S. 16th Street) in downtown San Jose, California.
Bark in the Park San Jose 2012 is a fun, family oriented event that attracts over 3,500 dogs and 15,000 humans. Located in an expansive, tree lined neighborhood park, this casual, family oriented day features contests, music, beverages, food, celebrities, demonstrations, dog-related vendors and services, kid's activities. And dogs! Lots of dogs. Admission is free with a $5 donation per dog encouraged.
Event highlights:
The extremely popular and fun-to-watch dog contests will be held at the Bark in the Park San Jose main stage. Contests are scheduled at the following times.

Dog Costumes, 11 a.m.
Silly Dog Tricks, 12 p.m.
Pet/Owner Look Alike, 1 p.m.
Happy Dog Tail Wagging, 2 p.m.
Ongoing activities include: Dancing Dogs, Dog Water Park, Free Dog Agility Course, Rabies Vaccinations, Low Cost Microchipping, Dog Related Vendors, Flyball Canine Relay, Herding Demonstrations, Family Activities, Performing Dogs, Grooming, and Training.
Bark benefits the Campus Community Association, Humane Society Silicon Valley and San Jose Animal Care Center. For Bark details call 408-793-5125
Check out how Bark in the Park San Jose is going green this year and will divert at least 50% of its waste from the landfill!
Public Contact Info:
Yelpline: 408.793.5125
email: info(at)BarkSanJose(dot)org
Website: http://www.barksanjose.org/
P.O. Box 90038, San Jose, CA 95109-3038
Bark in the Park thanks our sponsors:
Campus Community Association
City of San Jose
DogTrekker.com
GreenWaste Recovery
Humane Society Silicon Valley
KLIV/KRTY
Sam's Downtown Feed & Pet Supply,
San Jose Animal Care Center.
San Jose Mailing
San Jose Mercury News,
San Jose Water Company,
K9BeachBums.com
About Bark in the Park
Bark in the ParkTM is a fundraising event hosted by the Naglee Park neighborhood's Campus Community Association (CCA). All proceeds benefit the CCA and local animal charities.
About the Campus Community Association
Naglee Park is a historic San Jose neighborhood developed on the estate of Brig. General Henry Morris Naglee, a Civil War veteran and prominent California pioneer. The Campus Community Association grew out of Naglee Park to become a strong advocate for neighborhood values in San Jose. As a result, the Naglee Park neighborhood is at the forefront on issues affecting the downtown neighborhoods and San Jose as a whole.
About the Humane Society Silicon Valley
The Humane Society Silicon Valley is one of the largest animal shelters on the West Coast, caring for more than 28,000 animals last year alone. Approximately, 91 percent of the animals placed for adoption find new homes. The shelter pets benefit directly from the funds raised at Bark in the Park.
About the San Jose Animal Care Center
The City of San José created the Animal Care & Services division in 2001. With the completion of the City of San José's new Animal Care Center, the City of San José itself is now providing shelter and field services for San José residents and for residents of Cupertino, Los Gatos, Milpitas and Saratoga.
Copyright (c) 1996-2012, CCA. "Bark in the Park" is a trademark of the CCA