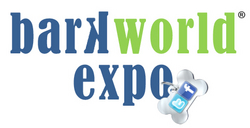 Social media and pets were made to go together," said event keynote speaker Carie Lewis, Director of Emerging Media at the Humane Society of the United States (HSUS)
Atlanta, GA (PRWEB) June 2, 2010
BarkWorld Expo (BW) today announced that leading pet social media experts will deliver presentations at BarkWorld Expo, the first-ever social media conference and exposition for the online pet community, August 20-22, 2010 in Atlanta, GA.
More than 20 high-profile social media experts will speak at BW, including Carie Lewis from the Humane Society of the United States; Lynn Haigh from PawPawty.com; Natalie Malaszenko from PETCO; "Twiction" expert Sloane Kelly from BFG Communications; Catherine Ventura, a Huffington Post contributor; Kimberly Turner from Regator.com; veterinarian and dog radio show host Dr. Robert Forto; James Andrews from Everywhere and CNN Contributor; and Leslie May from Pawsible Marketing. A complete list of speakers can be found on the BW Web site.
"Social media and pets were made to go together," said event keynote speaker Carie Lewis, Director of Emerging Media at the Humane Society of the United States (HSUS). "Social media is all about sharing, and people love to share information and photos about their pets. The HSUS wanted to be involved with BarkWorld because it's an event that will give us the opportunity to connect with social media pet owners and pet businesses that share the same love and respect for animals that we do."
The BW program will explore a range of issues and topics including Branding, PR, Marketing & Sales, Blogging & Analytics/SEO, Collars & Leashes (nuts & bolts) and, The Dog Park (community involvement, non-profit, face-to-face networking and cool social media tricks). There will also be a "Show & Tell" session for pet owners to showcase their pets' activities on social media applications like Twitter and Facebook.
"Pet social media continues to evolve at an unprecedented pace. Having well-seasoned social media experts speak at BarkWorld will help highlight the needs and challenges of this active and growing online community," said Denise Quashie, BarkWorld founder. "As many of our speakers also attend and present at popular technology conferences such as BlogWorld and SXSW, it will make for interesting dialogue, provide a unique look into pet social media and answer the most prevailing question many non-pet owners pose: "Why is your dog on Twitter?!"
In addition to the list of speakers, top pet industry brands - like PETCO - will be present at BW as partners. "It's so important for brands within the pet industry to support face-to-face social media events because, while the discussions are happening online, the opportunity to meet in person really opens the lines of communication, builds personal connections and brings understanding to a whole new level for the entire community," said Natalie Malaszenko, Director of Social Media & Commerce for PETCO and also a BW keynote speaker. "We're thrilled to be part of an event all about pets in social media. The pet social community is a wonderful example of how passionate people are about their pets - and we're honored to be part of the community."
For those unable to attend BW, Dr. Robert Forto of Denver Dog Works will broadcast his Dog Doctor Radio Show live during the 3-day event and will be onsite to interview speakers, attendees and exhibitors about their experience. BW will also take questions from BW Twitter followers to ask live at the show.
About BarkWorld Expo (BW)
The 2010 BarkWorld Expo is a social media conference for pet owners and businesses that use Twitter, Facebook, blogs, YouTube and other social media applications. It's also for pet owners that are on the fence about social media or just interested in networking with other pet lovers. BW will provide a forum for the "behind-the-scene" tech-savvy to network and learn from each other and gain a better understanding about the products and services available to them. For business owners, BW will provide education and tips on how to utilize social media to build their brand and increase visibility.http://www.barkworldexpo.com
About Events By Canvas (EBC)
EBC is an Atlanta-based event consultancy that specializes in social media events, social media consulting and other professional social events and meetings. EBC manages events from 25 - 2,500 people and consults with small and large brands, including non-profit pet associations. http://www.eventsbycanvas.com.
# # #