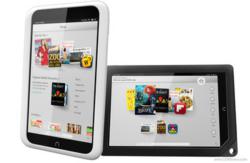 Denver, CO (PRWEB) January 14, 2013
As the tablet market has grown significantly over the past two years, today's product offer, price and tech specs are so high that it can easily get confusing.
Find My Price has new discounts for Barnes & Noble Nook HD+ 9" since the beginning of the month. The website also released new product reviews, checking out OS functionality, content and available app, battery life, screen quality, overall user experience, internet speeds, processor speeds, chargers and adapters, as well as competition's tech specs.
According to http://www.FindMyPrice.net, Barnes & Noble Nook HD was always a top choice for buyers on a budget and the 9" version, priced at $269 (16GB), aims to be just as budget-friendly. The 9-inch tablet at 9.5/6.4/0.45 inches and only 1.16 pounds is light and small, so it is easy to slip it into a purse, backpack or suitcase. The Nook HD 9-inch tablet runs on a 1.5GHz TI OMAP4470 processor and comes with the latest version of Android.
For the shopper interested in buying a tablet on a budget, making a choice has never been harder. Because of the available diversity, the brand it's no longer the only thing buyers are now interested in.
Latest Report release by Find My Price reveals that the biggest perk for buying this tablet is getting access to the significant content made available by Barnes & Noble. There are 1 million free books, magazines and newspapers as well as kids' stories, games and learning features. Battery life promises 10 hours of use on a single charge, while the 256ppi screen is very close to iPad 4's quality (263ppi).
It's no longer just the brand that convinces buyers to purchase a certain device. The tablet market has evolved to such an extent that there are hundreds of products and a diversity of tech specs and price tags to browse through. For the buyers who are not tech savvy, finding the tablet that will meet their expectations has become difficult and confusing. Price comparison services, such as Find My Price, strive to clear the air and deliver comprehensive reviews that pertain to a buyer's checklist.
As a leading price comparison service, Find My Price looks at everything a buyer would look for in a tablet: battery life, OS, screen size and performance, Internet speeds and connectivity, gaming and video playback performance, audio quality, cameras, in-built memory, processor speeds, IR ports, chargers, user friendliness, app and content potential. Find My Price aims not only to deliver accurate and helpful reviews on electronics, but also to give buyers the lowest prices available for the particular product they are looking for.