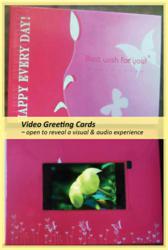 Barney's Print Management are excited to release video greeting cards which offer customers hundreds of potential uses.
Melbourne, Victoria (PRWEB) May 07, 2012
Innovative print specialists, Barney's Print Management, are excited to unveil a new promotional product that provides a multi-sensory experience. The "video greeting card" plays a video automatically upon opening, making it a unique and memorable choice for companies for a wide variety of promotional, advertising and corporate occasions.
This could include client and staff birthday cards, Christmas cards, video brochures, business cards, promotional pieces, advertisements, sales aids, branded print campaigns, educational pieces and direct mail with a difference.
The video screen inside the card is available in 4 different sizes and the product offers customers the ability to fully customise the design of the card as well as the video file.
"We're really excited to release the video greeting card because it's got so many potential uses and in my opinion, it's got true wow factor!" exclaims Owner and Managing Director, Garry Barnett.
"I plan to use it for our marketing because it stands out so much. Opening what you think is a normal card and finding a video screen playing will definitely make customers remember you."
The Barney's Difference
From sourcing the quotes to final delivery, Barney's Print Management handle the entire printing process.
In addition to this brand new promotional product, they can also source a wide variety of other items including clothing, caps, badges or pens, key rings or lanyards, enviro bags, loyalty cards and USB drives. They also specialise in custom made promotional items.
Their promise to their customers is that whatever their marketing need is, they can help to find a product to promote it.
For more information about this brand new promotional item or Barney's Print Management, visit http://www.barneys.com.au
About Barney's Print Management
Barney's Print Management was established in 2003 by owners Garry and Tanya Barnett with the sole purpose being to provide clients with a level of service and understanding of their needs that Garry had expected when he worked in the marketing industry for over 13 years.
While they began as a single point of contact to source all printed materials for their clients, Barney's have since expanded into also providing signage and promotional products for companies right across Australia.