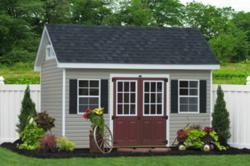 Sheds Unlimited caters to customers as far as four hundred miles from their farm based PA barns and garden sheds manufacturing facility
Bridgewater, NJ (PRWEB) March 28, 2012
In the 1990's when New York and New Jersey homeowners were in need of barns and garden sheds or prefab car garages they would peruse the ads in the telephone directory for a local dealer. Many of these buildings were built by the Amish in PA and shipped as a unit to dealers across NY and NJ. But with the dip in the American economy, shed and garden customers have increasingly turned to the internet for leads on where to buy barns and garden sheds direct from the manufacturers in PA. Potential customers simply Google 'barns and sheds in NY' or some other related search term. There they discover small, family owned companies such as Sheds Unlimited of Lancaster, PA who provide countless barn and garden shed solutions for extra storage needs.
It is no small wonder many are turning to Amish builders when one considers the ease of purchasing barns and sheds, garden sheds and prefab car garages from Lancaster PA. Sheds Unlimited is a case in point. They are a family owned and operated company located in the heart of the PA Amish Country and they cater to customers as far as four hundred miles from their farm based PA barns and sheds manufacturing facility. Visit their office on any given workday and you will find four friendly office workers busy answer calls from folks in Pennsylvania, New York, New Jersey, Connecticut, Delaware, Maryland, Virginia and beyond. Then step outside the door and listen to the pounding of hammers and air tools as Amish men and others work hard to produce sheds and barns for Sheds Unlimited's growing list of clients.
Sheds Unlimited has a robust online presence which continues to expand weekly. The middle son of five in the Stoltzfus family has worked for years to develop their very attractive, simple and interactive sheds and barns website. On that garden shed website one can find simple wooden sheds and barns, carefree vinyl buildings, beautiful looking classic sheds and even the newest Premier Garden Barns and Sheds with a roof pitch so steep that it must be folded before going on the road! But that is not the end of their line of barns and sheds in PA.
Sheds Unlimited is also a leader in the industry providing prefab two car garages for New Jersey and New York. They offer countless options which transform a simple two car garage into a two-story attic car garage or a full two-story building. Some of the smaller two-story sheds and barns are now delivered in two sections. The bottom section includes the floor and walls while the top includes the second floor and roof which is then lifted in place with a crane. It is an amazing sight to watch the entire roof with dormers, shingles and windows being set in place as a modular garage.
A quick visit to the Sheds Unlimited website shows the family oriented approach they take to business. The second son Steve Jr. is the manager of the growing garden shed business. Chris, the middle son is the web designer, marketing manager and architectural designer. He lives in Indiana with his wife of several months while working for the barn and shed company in PA. The next son, Johnny also works in the office managing larger prefab car garage and two-story sheds and barns projects and the brother-in-law manages the barns and sheds finishing department. It certainly is a family owned and operated business.
There are a few more in the family who do other types of work as well. According to the Sheds Unlimited website, the youngest of the Stoltzfus family works in a farm related business while the youngest sister owns and manages Cafe One-Eight in Lancaster, PA. Look across the street from the farm where the sheds and barns business is located and you will see the house and barn owned by Alphie, the oldest of the five boys. He and his family run a bed and breakfast as well as an ice cream stand trailer.
No doubt, the small family run business is offering great products along with reasonable prices. The family feel of Sheds Unlimited in PA along with numerous options and helpful customer service makes it increasingly attractive for customers to buy sheds and barns for NY and NJ online at much cheaper prices. Folks all over New Jersey, New York and beyond are driving all the way to Lancaster County to combine a relaxing and enjoyable weekend in the PA Amish Country. While there, many choose to place an order for a barn, shed or prefab car garage direct from Sheds Unlimited in Gap, PA. Amazingly, some homeowners will save thousands of dollars when purchasing a car garage direct from the Amish-Mennonite manufacturer in Lancaster, PA.