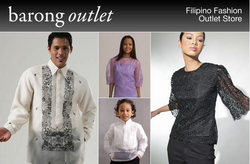 In today's slumping economy, our customers are telling us that they need more affordable ways to dress up in Barongs and Filipiniana fashion for their special occasions.
Los Angeles, CA (PRWEB) October 12, 2008
Calling it a "Barong Shoppers' Bailout Plan" may be a stretch of the imagination, but for budget-conscious shoppers seeking Barongs, the power of their dollar at BarongOutlet.com couldn't be more real. With outlet-style bargains and its "Downward Pricing" model, BarongOutlet.com is giving customers new reasons to shop again.
Similar to traditional retail outlet stores, BarongOutlet.com offers products that are either "good quality but overstocked" or "less than perfect," according to co-founder, Aileen Federizo. She adds, "The hand-crafted, wearable art offered at Barong Outlet are all priced to sell quickly." The products are a mix of Barongs, Kimona Blouses, Terno dresses and other Filipiniana fashion and accessories. BarongOutlet.com is the first and only outlet store to serve this niche market.
In today's troubled economy, retail sales are down overall and customers are demanding lower prices. A new study by research firm, Morpace Inc., reveals that the majority of consumers are shifting their shopping behavior toward money-saving shopping alternatives like outlet and discount stores. So, launching a store like BarongOutlet.com, that offers bargain prices for typically high-priced, hand-embroidered garments, is a timely move amid today's economic slump.
With its "Downward Pricing," Barong Outlet's prices get steadily reduced until the items sell out. Asked about Barong Outlet's performance so far, Customer Service Manger, Banjo Comsti says, "Customers get excited and shop competitively with this new 'Downward pricing.' It's a lot like the experience of bidding to win on eBay or other online auctions. However, with 'Downward Pricing,' the shopping action heats up as the prices go down." Federizo adds, "Barong Outlet customers have become strategic shoppers. If they find a Barong they like and immediately buy it, they might pay more than if they had waited a day or two to buy. On the other hand, if they wait for the price to drop lower, but the Barong is sold out before they try to buy, they've missed their chance. So customers ultimately choose the price they're willing to pay."
Only time will tell if the outlet concept will work in this niche market. As a spin-off of MyBarong.com, the pioneering online Barong store, Barong Outlet has a well-defined customer base. According to Federizo, since its launch in 1999, MyBarong.com has helped thousands of customers around the globe buy a Barong that suits them perfectly. She reveals that, "Yes, we sell the Barong. But it's more than just a shirt ... it's a symbol of cultural pride." Especially significant for wedding couples, wearing the Barong is a way for the couple to honor the groom's and/or the bride's heritage during the wedding ceremony. The Pilipino Wedding traditions endure globally, and are especially symbolic for those who don't live in the Philippines. The Wedding Barong, Federizo believes, is a beautiful way to honor our ancestors. She adds, "In today's slumping economy, our customers are telling us that they need more affordable ways to dress up in Barongs and Filipiniana fashion for their special occasions." The timing for Barong Outlet's launch appears to be perfect.
About BarongOutlet.com:
BarongOutlet.com is a spin-off of MyBarong.com, the very first online store to specialize in custom tailored as well as off-the-rack Barong Tagalog. Launched in 1999, MyBarong.com's mission is to give everyone a chance to buy remarkable Barongs with exceptional value from anywhere around the world. It is a family-owned business that thrives via collaboration with partner artisans, tailors, embroiders and weavers in the Philippines with a collective goal of making the world a more beautiful place, one Barong at a time.
Contact:
Corky Pasquil, director of public relations
BarongOutlet.com
MyBarong.com
877-822-7664
###