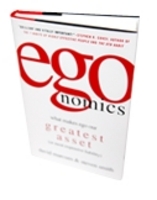 Ego is the unseen--but not unfelt--force that impacts Presidential power and policy
Salt Lake City, Utah (PRWEB) March 3, 2008
Barack Obama manages his ego better than Hillary Clinton or John McCain. That may give Obama the edge in becoming the next resident of 1600 Pennsylvania Avenue, and a crucial trait for being a great President.
In a recent online survey created by Simon & Schuster authors David Marcum and Steven Smith for their new book, egonomics: what makes ego our greatest asset (or most expensive liability), Obama is a landslide winner over Clinton on being country-centered vs. self-centered, open versus closed-minded, admitting mistakes and not playing business-as-usual political games.
The poll results of 1,196 people show the top responses for Clinton and Obama, among other prominent candidates this year, and their overall scores on a 100-point scale.
Click the attachment to see a quick summary table of the results for Obama and Clinton, or here to see the results of the main candidates who ran earlier in the Presidential campaign.
"Ego is the unseen--but not unfelt--force that impacts Presidential power and policy," say Marcum and Smith (egonomics; Simon & Schuster). "The right amount of humility, genuine curiosity, and water-cooler candor define a President's effectiveness, irrespective of policy, party or political stance. The question is, 'What makes them great?' Most Presidents have the talent. It's these rare intangibles that make the difference."
So what do you watch for to make your best decision before election day? Pay attention to these 4 Early Warning Signs that reveal a candidate is letting ego manage him or her, rather than the other way around:
1. Being Defensive: In the most recent Democratic debate, moderator Tim Russert listed comments that he said showed Clinton once supported NAFTA. Senator Clinton appeared to get defensive about media bias against her and in favor of Obama. "I just find it kind of curious that I keep getting the first question on all of these issues," she said. "Maybe we should ask Barack if he's comfortable and needs another pillow." That's being defensive.
2. Showcasing Brilliance: Watch for the number of times a candidate refers to himself, rather than using the terms, "We" and "Us." It's an important indicator of how they see the country (me vs. we-centered), and how openly they'll listen once elected. To paraphrase political expert Joe Klein, great Presidents have a "deep respect for their audience [not just themselves], which has been lost in American politics." People have lost their taste for "egomania" and showcasing.
3. Seeking Acceptance: Watch carefully for how much attention a candidate pays to special interests, pollsters, etc. Judge their authenticity, not just their whitewashed, memorized speeches that appeal to "everyone" while being compelling to no one. While a candidate needs the acceptance of their "base" and political constituencies, too much time catering to those people creates ineffective bias toward future policy. Former New York Mayor Ed Koch once said, "If you agree with me on 9 out of 12 issues, vote for me. If you agree with me on 12 out of 12 issues, see a psychiatrist." That's healthy perspective.
4. Excessive Comparison: How much time do they spend comparing themselves to, and talking about, their opponent? While the competitive spirit is healthy, and drawing real contrasts is important, evaluate candidates on how much time they spend addressing real issues and how they intend to fix them if elected. Remember, they should be running for President, not against the other person.
To discover how your work team's dynamics measure up against the same criteria on which the candidates were judged, visit http://www.testyourteam.com.
About MarcumSmith, LC
MarcumSmith is a leadership development company. Their bestselling work has been published in 17 countries in over 40 languages, and endorsed by Stephen Covey, Tom Peters, Marshall Goldsmith, and Amy Edmondson of Harvard Business School, among others.
Contact:
Steve Robinette, Public Relations Director
MarcumSmith, LC
801.492.9009, ext. 109
http://www.marcumsmith.com
###