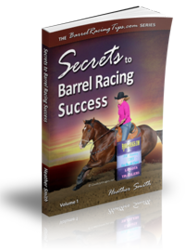 (PRWEB) November 26, 2012
Barrel racing tips are being offered to barrel racers, in the new Speed Development guide, A bonus ten page guidebook, included with the purchase of "Secrets To Barrel Racing Success" by author Heather Smith, through her website BarrelRacingTips.com. Ms. Smith is a winning, successful, professional barrel racer, teaching others, how to obtain fast times while racing through the barrel pattern.
While all races involve maximizing potential speed, there are few where the rider is atop more than half a ton of raw horsepower, with a brain and muscles of its own. Running a horse around a racetrack certainly requires a special set of skills and techniques, conditioning and training, in order to to complete a lap around the oval track within a couple of minutes. Applying all of the above, and then asking the horse to turn three barrels in a cloverleaf pattern within a matter of seconds, dramatically increases the need to obtain the greatest amount of speed possible.
The ten (10) page guide is written specifically for barrel racing enthusiasts on the topic of developing speed for barrel racing training. The guide helps barrel racers maximize their horse's efficiency during a race, or practice. The various sections of the guide cover every aspect of equine speed development, from analyzing natural talent to understanding the effect of the rider. The development of speed is very important in the barrel racing profession since victory can be determined by fractions of a second.
The fantastic speed development guide is available on Heather Smith's website http://www.barrelracingtips.com where barrel racers can find resources covering all the fundamentals of improving skills in amateur and professional barrel racing. The website offers the experience and insight of professional barrel racers and the describes the important skill sets needed to guide a powerful horse around the barrel racing pattern at the speed required to win competitions and take home the prizes.
The website also delivers informative teaching of professional barrel racing insider information such as how to overcome the challenges of competition and steps to gaining confidence. The content is developed with the purpose of assisting riders in establishing new, positive habits, by helping them master change in the moment and offering support through integration. Topics range from creating quality, relaxed movement for barrel horses and improving responsiveness to solving problems on the pattern, as well as building winning habits.
Topics on the site that barrel racers and horse lovers in general will find useful are how to develop a champion horse, where guidance is offered on various subjects related to building confidence and care of a barrel racing performance horse. Another section of barrel racing articles offers how to be a better competitor, with suggestions for self-reflection and growth to bring a natural balance to a barrel racers life, which in turn fosters a winning attitude. Additional sections cover how to overcome challenges such as gate problems and wide turns. A section on NFR barrel racing featuring articles with top NFR barrel racers, covers a wide variety of helpful topics featuring professional barrel racing details from experienced, winning professional barrel racers.
To receive a free Speed Development Guide, be sure to visit the website and purchase the book, Secrets to Barrel Racing Success. Once purchase is complete, free gifts can be claimed through a simple form at http://www.barrelracingtips.com/secrets-to-barrel-racing-success where readers will receive an e-mail featuring a link to download their free gifts.