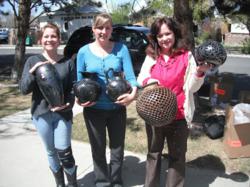 This was some of the most beautiful Barro Negro Pottery I had ever seen!
Sparks, NV (PRWEB) April 26, 2013
Kim Ciesynski of Spaces Design, an interior design company in Sparks Nevada, was introduced to Blythe Roberts, the owner of The Oaxacan Connection, a United States distributor of Barro Negro pottery imported from Mexico. She had seen some of the pottery on the Barro Negro Pottery website and was intrigued by the workmanship, design qualities and uniqueness of these products and decided she needed to see them in person.
Blythe had recently received a shipment in from their warehouse in Texas. She met Kim at her office and displayed a couple of the carefully packed pottery out of the shipping boxes. As soon as she opened the first box, Kim and Blythe instantly hit it off and they became fast friends with a mutual interest in design and fine things.
Blythe had originally only intended to show Kim 2 or 3 boxes but ended up bringing every single box out of the truck as Kim was very interested by what she saw. Every piece of pottery demonstrated a unique excellence in quality and originality. Blythe described how each pot is envisioned and created by designers who have passed down the skills through the centuries through the Rosa family and is completely handmade without being spun on a wheel.
Kim asked multiple questions about each one regarding the differences in colors, textures, patterns and sheen, and Blythe explained the process as Kim rubbed her hands over each piece of pottery savoring the experience. The pottery comes from the only place in the world that can produce the clay necessary to make this pottery: a special mine near a volcano in the Oaxacan region of southern Mexico.
The clay after it is first taken out of the mine, is a rather dull brown that doesn't look much more interesting than ordinary mud. But the pottery making family had discovered that by creating this pottery and firing it into two different types of kilns, or ovens, produced a different color. If the pottery is placed in a wood fire it turns black, but if it is placed in a gas fire it turns brown. But the most interesting thing is that Dona Rosa, a woman in the 1950s, discovered that by rubbing the pottery with a piece of quartz before firing it resulted in a shiny surface, not just a dull one. It was Dona Rosa that completely changed the industry by discovering what happens when Quartz is used on the pottery.
Upon hearing this story, Kim's mind was turning over and over thinking of different ways to use this decorative pottery in some interior design applications. She discovered that the pottery is not suitable for outdoors and will not hold food or water, but is for decoration purposes only. She was informed that every single pattern, hole, incision and detail is created by hand and she repeatedly expresses how beautiful they looked. She kept asking all kinds of questions about the size and shapes and varieties that they came in.
Kim went on the website and looked through hundreds of examples of the pottery in different shapes, sizes and prices. She was fascinated by the different styles and could envision them in different places in her customers home or office. She thought about some of the restaurants that she had done design work for and how beautiful they would appear in such a setting. Kim was so excited by what she found that she actually purchased a couple of pots from Blythe right on the spot. One to give to a friend as a gift, and another to keep in her own office as a reminder of what she had seen.
Since Kim is the President of the National Council of Interior Design Qualifications (NCIDQ), she is going to introduce Blythe and her Oaxacan Connection pottery to the other interior designers in the group. She is certain that many of them will also find significant uses of this Barro Negro Mexican pottery with their customers.
+++++
The Oaxacan Connection is owned by Blythe and Andy Roberts and is a US distributor of barro negro pottery from the Oaxacan region of Southern Mexico. They can be reached through their website at http://www.blackclaypottery.com or by calling them at 832-275-6348. All pottery can be ordered directly online and shipped via UPS in special shipping boxes and is guaranteed against breakage.