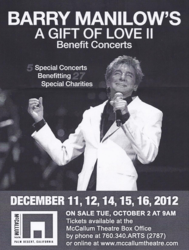 The local real estate community is both grateful and excited to have a performer of Manilow's caliber living in our midst.
Palm Desert, California (PRWEB) October 22, 2012
Brad Schmett, Broker Associate with Luxury Homes by Keller Williams and Palm Desert real estate expert, has today announced that real estate in Palm Desert and the surrounding desert cities will get a boost this holiday season from world-famous singer Barry Manilow at the McCallum Theatre.
Local Palm Springs resident and world-class music performer Barry Manilow will be performing a five night concert series at the McCallum Theatre during the coming December to benefit charity. Following his wildly successful December 2009 "A Gift of Love" concert series at the same venue, " A Gift of Love II" will be offered December 11 - 12 and December 14-16 to raise funds for 27 local charities each evening. Having raised nearly half a million dollars for his home-based Coachella Valley charities with the first concert series, it is highly anticipated that Manilow will meet or exceed that goal this year.
Brad Schmett, a long time Manilow fan, said today that "The local real estate community is both grateful and excited to have a performer of Manilow's caliber living in our midst." Manilow's dedication and generosity to local charities is legendary. One of the top adult contemporary musical artists of all-time, with an amazing 48 career hits making the Billboard's top 40, Manilow also produces and arranges his own music. Over his career he has released more than 40 best-selling albums and performed countless times for the benefit of favorite charities.
Schmett is proud that the Coachella Valley is known for its generosity as much as for its star-studded population of gifted entertainers. Although he is accustomed to working with celebrities, many of whom have purchased luxury homes in Palm Desert, he is always delighted on a personal level when a performer in Manilow's league takes the time to give back to the local community in this way.
Just a few of the local charities who will benefit include Animal Samaritans, the Barbara Sinatra Children's Center, College of the Desert, the Mizell Senior Center, and the Desert AIDS Project. All of them in good company, they are only a sampling of the beneficiaries of the Manilow largesse. For more information on getting your tickets before they are sold out, visit the link below.
To find out more about the McCallum Theatre go to http://www.McCallumTheatre.com
To find out more about investing in Palm Desert, CA real estate visit http://www.PalmDesertRealEstateInfo.com.
About Luxury Homes by Keller Williams: Luxury Homes by Keller Williams – Palm Springs, is an exclusive, elite and sophisticated group of real estate consultants raising the bar for service in the upper-tier Palm Desert area residential real estate market.