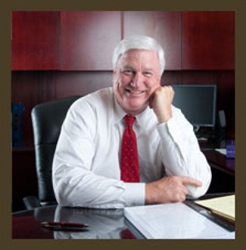 You may also choose to grant a durable power of attorney, which gives your agent the ability to act for you even when your illness has made you mentally incompetent.
Orlando, FL (PRWEB) January 06, 2017
Personal injury attorney Barry Morgan, founder of the Morgan Law Office P.A., has been asked numerous times throughout his thirty-seven years practicing law what is needed to prepare for a significant hospital admission. Morgan answers that question with the following five tips:
No. 1: A will. "Being realistic, we know that not all patients survive a significant surgery or illness," said Morgan. "If you are anticipating admission to a hospital, now is a good time to get that will that you know you need and have been putting off. And, if your will is an old one, or you know you want to make some changes, get it done now. These steps will save your family and heirs trouble and expense."
No. 2: A power of attorney. A lengthy hospitalization or rehabilitation may impair one's ability to manage their financial affairs. "Many of us have trusted children or other family members on our checking accounts so that bills can be paid, but if your illness results in a prolonged impairment, other more complicated matters may need to be handled," added Morgan. "If you grant a power of attorney to a trusted family member or confidant, that person can act for you in your stead. You may also choose to grant a durable power of attorney, which gives your agent the ability to act for you even when your illness has made you mentally incompetent."
No. 3: A living will. Hospitals can keep one's body alive when they have no hope of a meaningful recovery. "However, you have the ability to direct what is to be done in that case: Execute a living will and take the burden of hard decisions off those who love you," said Morgan.
No. 4: A health care surrogate. "We all know that physicians and hospitals like to have consent forms signed for medical procedures," said Morgan. "To be prepared for that possibility, you may designate a health care surrogate to make medical decisions and provide consent for you."
No 5. Assertiveness. "It has to be said that hospital errors are a leading cause of deaths and significant injuries in this country, and hospital-acquired infections are so prevalent that many conscientious physicians will avoid admissions if possible," concluded Morgan. "If you have to be admitted, though, be diplomatic but assertive. Ask the nurse to wash his or her hands when they come into the room. Question any medication that is not familiar to you. If something does not seem right, it may not be, so ask for an explanation. And in anticipation of the admission, check out your hospital and your other health care providers. Infection rates and previous malpractice information is often available online."
About Barry Morgan, Morgan Law Office P.A.
Attorney Barry Morgan provides legal representation in complicated personal injury and wrongful death cases. The Morgan Law Office P.A. also specializes in motor vehicle accidents, medical malpractice and professional malpractice. For more information, please call (407) 246-7099, or visit http://www.bmorganlaw.com. The law office is located at 28 East Washington Street, Orlando, FL 32801.
About the NALA™
The NALA offers small and medium-sized businesses effective ways to reach customers through new media. As a single-agency source, the NALA helps businesses flourish in their local community. The NALA's mission is to promote a business' relevant and newsworthy events and achievements, both online and through traditional media. For media inquiries, please call 805.650.6121, ext. 361.