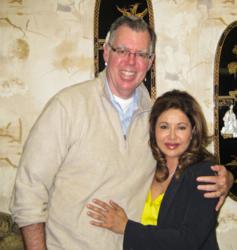 Let Food be Your Medicine
Vero Beach, Florida (PRWEB) June 10, 2013
Dr. Barry Sears, author of the world-renowned Zone Diet will be in Vero Beach, Florida on June 19, 2013 to provide a lecture sponsored by Mederi Caretenders, ABS Insurance Services and the Quality Health Care and Wellness Center. The lecture will be at the Richardson Center at Indian River State College in Vero Beach.
The Zone Diet has sold 6 million copies in the United States and has been translated into 22 different languages. Many celebrities, such as Jennifer Anniston have embraced the zone diet strategies as their anti- aging, weight loss lifestyle.
Dr. Sears will discuss the benefits of the Zone Diet and how it can reverse the obesity epidemic which plagues America. The goal of the Zone Diet is to reduce cellular inflammation in the body brought upon by improper dietary habits. Inflammation is the root cause of most known diseases.
Dr. Deepti Sadhwani, of the Quality Health Care and Wellness Center located in Sebastian, Florida will introduce Dr. Sears and be available to discuss how she has helped thousands of local folks lose weight, using the Zone Diet.
The event will be held in the Mueller Auditorium at the Richardson Center of Indian River State College located at 6155 College Lane Vero Beach, Fl. on June 19, 2013 at 6PM. The general public is welcome to attend. Admission is free. Donations to the Hope Foundation, dedicated to the education and prevention of obesity are gratefully accepted.
For additional information, you may contact Brent Foster Account manager of Mederi Caretenders at 321-652-1713 or Joe Coakley practice manager at Quality Healthcare 772-559-2680.