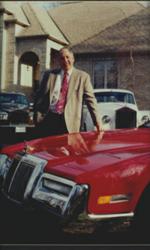 Our webinars provide the same in-depth training offered in our personal seminars, only via the Internet.
Naples, FL (PRWEB) September 27, 2011
Barter industry expert, Tom McDowell recently announced offering the proven "How to Launch a Profitable Barter Exchange Business" training program via webinar. As the recession continues to affect business owners everywhere, barter or trade - the oldest form of commerce - has experienced a new interest and growth in the form of exchange networks forming worldwide. A leading authority on the business-to-business barter concept, McDowell realizes the trade system's important role in the globalized marketplace. McDowell draws from a wealth of first-hand experience in the industry and has hosted the Barter Trainer program in Cleveland, OH and Naples, FL for over 20 years, personally teaching entrepreneurs how to start profitable barter businesses.
Having built and operated a successful trade exchange business (ATX The Barter Company) for 26 years, McDowell's interactive approach to teaching the trade network business can be used anywhere in the world, but in reality, not every perspective student has been able to afford the time or travel expense to make such a trip to the U.S. "With the recent increased interest in the barter concept worldwide, we felt that we had to somehow bring the business exchange training to entrepreneurs, wherever they may be. Our webinars provide the same in-depth training offered in our personal seminars, only via the Internet," shares McDowell. McDowell developed the same barter business training program by webinar, providing the sessions via live, interactive feeds over the Internet, expanding the world demographic for this increasingly global barter marketplace. Recently retired as Executive Director of The National Association of Trade Exchanges (NATE), McDowell has also served as a speaker, moderator and panelist at over 100 barter and business training sessions.
Barter System Increases Business
Trade . . . barter . . . swap. Most individuals have experienced barter in one shape or form - either as children trading toys among playmates and siblings or in business-life swapping inventory and production time for products and services needed.
For businesses with sluggish sales or undersold professionals with time on their hands, trading helps dispose of excess inventory and fill open appointment slots and production time. An exchange network facilitates trade transactions among member businesses, providing a source for incremental sales (sales that would not have been transacted if cash was required) to their clients and is paid a fee to provide this service. Barter transactions produce an immediate increase in cash flow for business member participants when one trades for an expense that would otherwise need to be paid for in cash. A barter exchange serves as a clearinghouse for business-to-business trades, eliminating the constraints of direct trading.
Entrepreneurs Worldwide Find Easy Barter Business Training
A $6 billion industry in the United States alone, barter naturally benefits from the increasingly globalized marketplace. Barter touches on virtually every industry in every sector, involving the collaboration of partners across the globe. Increasingly, students to McDowell's seminars have come from South Korea, England, Columbia, New Zealand, Canada and Brazil. However, many perspective entrepreneurs have not been able to afford the time or cost to travel to McDowell's programs offered in the U.S. Offering the same detailed barter training via Internet webinars, McDowell now teaches entrepreneurs all over the world the behind the scenes legwork for starting a profitable barter exchange network.
About The Barter Trainer
Tom McDowell's Barter Training provides the most comprehensive barter business opportunity training program to those starting their own B2B barter exchange network. For nearly 30 years, McDowell has trained and educated barter exchange owners across the U.S. and Canada. In addition, his Barter Trainer Program has graduates in Bulgaria, England, Columbia, South Korea, New Zealand, Brazil and Australia. With all the tools, experience and resources to begin, McDowell's barter business training program provides entrepreneurs with the resources needed: software to website development to experienced barter consultation and direct marketing tools.
For additional information on The Barter Trainer program, contact Tom McDowell at 440.488.1683 or by email at tom(at)bartertrainer(dot)com. Visit http://www.bartertrainer.com for complete details.
###