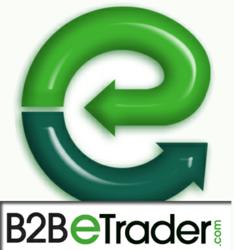 "We're hearing from all kinds of companies who are thanking us for the savings they're getting," said Jovan Haye the co-founder of B2BeTrader
(PRWEB) February 18, 2012
It's a year of transition for a number of different businesses. The economy still hasn't climbed out of recession, and many businesses are looking for an easy way to bootstrap their way to success. That's why there's been such a huge increase in a new phenomenon known as "Bartering." It's the same old trade that's been going on for years, but new businesses such as B2BeTrader are making it easier than ever for companies to sell their used equipment, like restaurant equipment, medical equipment, office equipment, heavy equipment or farm equipment.
Why is Bartering so green? It's simple. When businesses exchange their used equipment for other equipment, money, or trade credits, they put less carbon into the air. That's because it costs a lot more energy to manufacture equipment than it does to simply find a new home for equipment that already exists. Some businesses are taking advantage of the marketing play they get from dealing green. They're happy to let everyone know that they're doing their part to cut down on greenhouse emissions (and their costs too!).
What's the advantage of using a Bartering site like B2BeTrader? Here are a just a few:

It's the largest online market for used equipment. Size isn't everything, but it's pretty important when looking for used equipment. Because B2BeTrader is so large, it's very easy for businesses to find what they are looking for. It's even easier when they have access to the B2BeTrader mobile app. The app allows them to post their used equipment online in less than a few minutes.
B2BeTrader has a no risk guarantee. It doesn't cost anything for businesses to put up a listing, and there's no risk. All transactions are monitored to make sure they comply with the proper rules and regulations. Scammers are dealt with in a very efficient manner.
B2BeTrader lists equipment for all industries. Unlike other classified sites that are limited to one industry, B2BeTrader has used equipment from all of them. Businesses owners can browse through used medical equipment, restaurant equipment, office equipment, farm equipment, and heavy equipment.
The advantage of using B2BeTrader isn't just that it's a green alternative. When businesses compete with another to sell their used equipment online, everyone benefits from the savings in cost. "We're hearing from all kinds of companies who are thanking us for the savings they're getting," said Jovan Haye the co-founder of B2BeTrader. "They're excited to get green deals that propel their business into the future."
Bartering is unlikely to go away in the coming years. Many economists predict it will take at least a few more years for the economy to get back on track to where it was before the great recession. For the time being, businesses are trying to find new ways to grow without increasing their costs or risk. B2BeTrader is one of them. When it's so easy to get access to used medical equipment, office equipment, farm equipment, and heavy equipment, Bartering just makes sense.
If interested in buying or selling your used retail equipment, restaurant equipment, office equipment, medical equipment, farm equipment, or supplies and services, please visit B2BeTrader at http://www.b2betrader.com click here to post free ads.
On Facebook: facebook.com/pages/B2Betrader/241082985932618
On Twitter: twitter.com/#!/b2betrader
On LinkedIn: linkedin.com/pub/b2betrader-com/38/893/1a7
B2Betrader is a business to business (b2b) classified and directory website. This website serves businesses that are looking to get the most out of their assets whether they are equipment, supplies or services. This website will help businesses operate efficiently, and at the same time, help the environment by reducing unnecessary waste. B2Betrader is a one-stop shop for companies' procurement buyers, supply chain / outsourcing management teams to buy, sell, trade and barter equipment, supplies, services and any other assets. As businesses are scaling back due to the economy, this website will be an important source for raising capital to help finance upcoming new projects or help with the maintenance of current infrastructures.
Mission Statement:
Our mission statement is to provide an easy, clear and popular website where two businesses can engage safely in selling, buying, bartering and trading of equipment, supplies and services.
Company Goals and Objectives:
Our goals and objectives are to be a pioneer and leader in the business to business online classified and directory website.
# # #