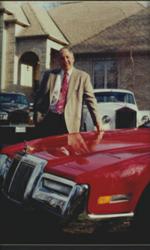 "The most important benefit a barter exchange offers to clients is incremental business. That's business with new customers that would not have happened without the barter network affiliation," said McDowell.
Cleveland, Ohio (PRWEB) May 31, 2011
Summer dates have been slated for the informative and valuable three-day Barter Trainer barter business opportunity training program, presented by Tom McDowell in Cleveland, Ohio. As the troubled economy struggles to turns the corner, business owners are seeking out innovative marketing options such as the barter system to help step up their game. In fact, in recent years most small business owners have already engaged in some type of trade or barter transaction and consider it an essential marketing device to keep a competitive edge in their industry.
Is there an ideal business opportunity? Entrepreneurs ask themselves this question daily. Of course, the answer is no. But starting a nearly recession-proof barter exchange business comes closer to perfection than any other business opportunity out there. The barter system is a unique business opportunity, which has a low start up cost, provides a generous residual income and holds no territory limitations.
A barter exchange network business is a B2B clearinghouse designed to facilitate trade or barter transactions among businesses. The barter concept is a profitable solution for companies with available inventory, time, space or services. A trade exchange network serves as a marketing agent and bank of sorts, establishing a currency or unit of payment called a Trade Dollar. Participating businesses buy and sell from and to other participating businesses in the network using Trade Dollars. By accepting payment in Trade Dollars instead of cash, a business maximizes their efficiency by selling inventory or billable hours to new customers. Using the trade dollars earned, that company purchases goods or services they need - without paying cash. For the cash-saving benefits they provide, the barter company is paid a transaction fee percentage by both the seller and buyer, along with a monthly administrative fee.
"The most important benefit a barter exchange offers to clients is incremental business. That's business with new customers that would not have happened without the barter network affiliation," said McDowell.
Barter is a $6 billion industry in the United States and reaches worldwide touching virtually every business type and industry sector – with the majority of business being facilitated through barter exchanges.
The Barter Trainer Program
One of the distinct advantages of owning a barter business is low overhead and inventory - factors that can be burdensome to many start-up businesses. Rather than buying a barter franchise and sharing their revenues, or going through the trials and errors of creating their own barter exchange system, many entrepreneurs interested in breaking into the barter industry have learned the inside trade secrets from Tom McDowell, the seasoned expert behind The Barter Trainer Program. McDowell provides a three-day barter business training program that details the ins and outs of building a successful and profitable trade exchange network, including managing a barter economy, tracking trade transactions and attracting the right mix of business types for the network
Retired as Executive Director of the National Association of Trade Exchanges (NATE), McDowell founded ATX the Barter Company in Cleveland in 1982, considered to have been be one of the strongest barter system exchanges in the nation. In addition, over the years McDowell has moderated, presented and taught more than 100 barter and business seminars. He has developed and fine-tuned the most comprehensive barter training program in the industry designed specifically to equip entrepreneurs with everything needed to launch a highly profitable barter business.
The Barter Trainer Program provides in-depth instruction on the barter exchange economy, operations, sales, broker techniques and management. The program details a tested, replicated business model designed to set up a barter exchange business in as little as four weeks. McDowell also offers barter consultation, training materials, barter websites and barter accounting software to facilitate the beginnings of a barter exchange network.
The Barter Business Training Summer Schedule
Tom McDowell's Barter Training has scheduled four upcoming programs available over the summer months in Cleveland, Ohio:
June 20 - 22, 2011 (Mon, Tues, Weds)
July 20 - 22, 2011 (Weds, Thurs, Fri)
August 17 - 19, 2011 (Weds, Thurs, Fri)
September 7 - 9, 2011 (Weds, Thurs, Fri)
About The Barter Trainer
Tom McDowell's Barter Training provides the most comprehensive barter business opportunity training program to entrepreneurs starting their own B2B barter exchange network. For over 25 years, McDowell has trained and educated barter exchange owners across the U.S. and Canada. In addition, The Barter Trainer Program has graduates in Bulgaria, England, Columbia, South Korea, New Zealand, Brazil and Australia. The three-day training program is presented in person by Tom McDowell in Cleveland, OH and Naples, FL or via Internet webinar sessions. With all the tools, experience and resources to begin, McDowell's barter business training program provides entrepreneurs with the resources needed on everything from barter software to barter website development to experienced barter consultation and barter direct marketing tools.
For additional information on The Barter Trainer program, contact Tom McDowell at 440.488.1683 or by email at tom(at)bartertrainer(dot)com. Visit http://www.bartertrainer.com for complete details.
# # #