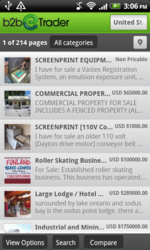 St. Petersburg (PRWEB) June 05, 2012
Over the last several years, the use of cell phones and mobile applications has been rising exponentially. This is because technology has improved to the point that many applications are available for these devices. As the manufacturers and service providers are doing everything they can to keep up with the rising demand. Evidence of this can be seen by comparing the increases in cell phone users with a broadband connection for 2010 and 2011 (which is illustrated in the table below).
Number of Cell Phone Users who have Access to Broadband Internet for 2010 and 2011(from a global perspective)
Year Total Number of Users / Percentage
2010 870 million / 12.6%
2011 1.18 billion / 17.0%
These figures show how smart phones with broadband Internet access are rising in demand. To keep up with these changes, many developers have begun creating customizable applications that can be used to address specific needs. Recently, B2B e Trader has announced that they have introduced a solution for Google Android users.
What is B2B e Trader?
B2B e Trader is an online business marketplace that allows buyers and sellers to contact each other for free (using the most state of the art technology). This involves utilizing social networking as a way to directly find other parties that are interested in: specific products, services or equipment. This helps business owners and entrepreneurs to be able to specifically address the needs of their firm. At the same time, this is assisting them in lowering their costs and increasing productivity. Making it ideal for businesses and professionals to share advertising listings to buy, sell, or trade a host of commercial used equipment, like restaurant equipment, medical equipment, office equipment, heavy equipment, IT equipment and more. Over the course of time, these tools will help an organization to become more competitive and flexible in adapting to a host of challenges.
B2B e Trader and the Google Android
To give business owners more options, B2B e Trader completed the Google Android application. This is the first of many solutions that are being introduced (which are designed to give users greater amounts flexibility). Moreover, the company is working on developing a similar application that can be utilized by iPhone customers. These tools are giving business owners more flexibility, as to how and when they will use the online marketplace. This means that these new applications can help them to address their critical needs and deal with other challenges (by effectively multi-tasking). These new solutions are making this possible as they are providing users with greater amounts of flexibility. This is one of the keys for dealing with sudden transformations over the long term.
Clearly, B2B e Trader is continuing to offer businesses the tools they will need to address their most critical issues. As the online marketplace, is allowing users to directly connect with each other for free (utilizing the most state of the art technology). To give business owners more flexibility, B2B e Trader introduced the new mobile application for Google Android users. This is the first of many solutions that are being designed to provide stakeholders with more choices. Once this takes place, is the point that firms are able to adjust with the challenges they are facing. As these solutions, are allowing owners to streamline and multi task simultaneously? This is when they are able to address critical issues while they are on the go.