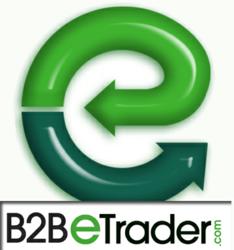 Tampa, FL (PRWEB) July 06, 2012
In the last few years, social networking has become one of the primary mediums that 1.3 billion people are using to stay connected. The impact is that stakeholders are looking differently at the way products and services are provided to address their specific needs. For small businesses, this means that they have to adjust to these transformations. The problem is that most firms do not have any kind of strategy for reaching out to this demographic. To help firms achieve these objectives, B2B e Trader has introduced the online business marketplace. This is a free application that is designed to directly connect both parties (using social sharing technology). The results are allowing firms to reach out to: new customers, suppliers, whole sellers and third parties. Over the course of time, this has helped to make these companies more competitive.
Social Sharing Technology and the Online Business Marketplace
What makes the online business marketplace so advanced is the way it can locate various stakeholders through social sharing technology. This is when any kind of advertisement will be shown to specific groups that are interested in a particular product (on websites such as: Facebook, Twitter and LinkedIn). This is allowing small businesses to find a new demographic of customers that are interested in what they have to offer. For example, business to business trading in a host of commercial used equipment, like restaurant equipment, medical equipment, office equipment, heavy equipment, IT equipment and more. Moreover, they can use this platform to directly connect with: whole sellers, suppliers and third parties about addressing a number of issues. The way that this is achieved is by directly contacting to the other party regarding: a specific buy, sell or trade. Once this takes place, is when a firm can reduce its costs and increase productivity.
To provide users with more assistance, B2B e Trader also gives everyone access to the various chat rooms and message boards. This is where business owners can discuss a host of ideas with some of the most successful entrepreneurs. When this happens, they can implement new concepts into their strategy that will allow the firm to adjust with a host of challenges. This will help everyone to identify new transformations early and quickly adapt. Over the course of time, this will assist small businesses in protecting their customer base and expanding into new areas. This is the point that they will be more competitive and flexible.
Clearly, social networking is changing the way various stakeholders are interacting with each other. For small businesses, this can be particularly challenging with most people not sure how to make these adjustments. To assist firms with these issues, B2B e Trader has introduced the online business marketplace. This is a free application that is using social sharing technology to effectively target these groups of stakeholders. The impact is that small businesses have been able to locate new customers and address some of their most critical needs. Over the course of time, this has allowed firms to lower their costs and increase their profit margins. This is when they were able to become more competitive and flexible in dealing with these issues. As a result, prudent small business owners understand these challenges and are using this solution to quickly address their needs.