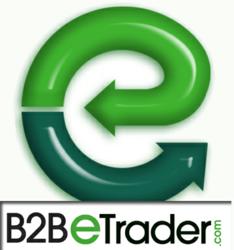 St. Petersburg, Fl. (PRWEB) July 17, 2012
Over the last several years, social networking has become one of the preferred ways that a variety of individuals and organizations are choosing to communicate with each other. This is because more people are turning to this platform as a way to stay connected and informed about a variety of topics.
B2B E Trader is reporting an increase of user registration as more and more people are using, the new online business marketplace social sharing technology to create a buzz. This is an interactive tool that will effectively target specific groups using social sharing technology for free. This is allowing small businesses to find a new demographic of customers that are interested in what they have to offer. For example, business to business trading in a host of commercial used equipment, like restaurant equipment, medical equipment, office equipment, heavy equipment, IT equipment and more.
What is Social Sharing Technology and Why is it Important?
Social sharing technology is tools that give someone the ability to intelligently connect with different stakeholders on all of the major social networking sites. The key is the next generation applications, which are designed to promote a specific advertisement (to those individuals who are most interested in what an organization may have to offer). This is accomplished through using state of the art technology that will monitor and present the information to someone (in a format that is most effective for them). Once this takes place, is the point that an individual is more receptive to a particular offer by learning about the various products and services on their own. When this happens, they are more willing to reach out to those firms that can address their specific needs. Over the course of time, this helps small businesses to most effectively target their resources and monitor how this is helping the firm. In the future, this will result in the company seeing an increase in their overall bottom line numbers.
B2B E Trader is providing firms with a comprehensive solution that is using this technology to reach out to new customers (i.e. the online marketplace). This is a next generation application that allows users to post ads and then target them to specific groups. In many cases, the individual has the choice of narrowing down their search to precise geographic regions. When this takes place, small businesses can more effectively reach out to a wide variety of stakeholders. This is the point that they can adjust more quickly to sudden changes in: the marketplace, the economy or within their industry.
Clearly, social sharing technology is helping small businesses to reach out to potential customers. This is allowing firms to locate individuals who are interested in their different products and services. B2B E Trader is providing these tools to its members for free through the online marketplace. This is a free application that allows entreprenuers to effectively connect with a larger segment of customers. It is this point that their underlying costs will decrease and their profit margins will rise.