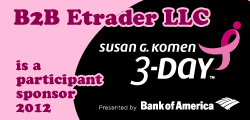 Tampa, FL (PRWEB) May 31, 2012
Over the last several years, a number of corporations have become involved in social responsibility. This is because they want to give something back to the community. During this effort is when there is an emphasis on programs that could address the needs of stakeholders and actual firms. In most cases, this has created programs that are dealing with a host of larger challenges impacting society. B2B e Trader has taken the lead in these areas with their continuing support for the Susan G. Komen Walk and the HOYAS foundation. These are two different nonprofits that are addressing specific issues impacting communities around the country.
B2B e Trader and the Susan G. Komen Walk
The Susan G. Komen Walk was started in 1991. Their objectives are to highlight the total number of people dying from breast cancer and to provide continuous funding for research. To achieve these objectives, there are a series of walks which takes place every year. B2B e Trader is playing an active part in the Atlanta race by supporting several walkers. This is highlighting how the firm is dedicated towards support programs that will deal with cancer related issues.
B2B e Trader and the HOYAS Foundation
The HOYAS foundation was started in 2009 with a focus on addressing juvenile crime (inside the city of Nashville, Tennessee). To achieve these objectives, they are reaching out directly to at risk young adults through a host of different programs to include: after school, summer, leadership and mentoring initiatives. B2B e Trader is providing direct financial support to the foundation. This is allowing them to reach out to those individuals who are most likely to become involved in criminal activity.
B2B e Trader's Philosophy
B2B e Trader's philosophy is focused on providing something more to various stakeholders. At first, this was accomplished with the firm directly connecting buyers and sellers through the online marketplace. This is a state of the art application that is allowing users to find those individuals who are interested in their particular product or service for free. Making it ideal for businesses to reach out to other businesses and professionals to buy, sell, or trade a host of commercial used equipment, like restaurant equipment, medical equipment, office equipment, heavy equipment, IT equipment and more. As a result, this approach has helped the company to address the needs of different stakeholders. To support the interests of the community, B2B e Trader is taking these ideas one step further by finding those social programs that will address specific problems. The Susan G. Komen Walk and the HOYAS foundation are two examples of how B2B e Trader is giving stakeholders something more.
Clearly, B2B e Trader is setting a new standard for social responsibility. This is because the firm is actively supporting causes that will address the needs of communities. In the future, this helps to: find a cure for breast cancer and it is dealing with the root causes of juvenile crime. This partnership has become a foundation for how corporate entities can work together with nonprofits. This is the point that their activities will have a positive impact on everyone. B2B e Trader's support and involvement of these programs, is showing how this can be successful if everyone is willing to work together. Once this takes place, is when these initiatives are yielding significant long term benefits for stakeholders.