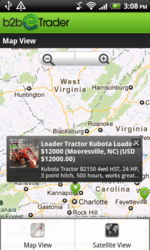 Supporting Small Businesses in 2012!
St. Petersburg, FL (PRWEB) May 10, 2012
Over the last few years, the total number of smart phones available on the market has increased exponentially. Two of the largest competitors that are continually vying for market share include: Google and Apple. This is because both phones offer similar features and can be customized to the needs of a particular user.
However, the Google Android is considered to be more popular. This is because the device is more user friendly and it has an open operating system (which means that more free applications available). As a result, the total number of Android users around the world is over 300 million people. Out of this amount, Google estimates that they are experiencing 850 thousand activations a day. This is illustrating how the Android has become one of the most popular phones on the market. To reach out to Android users, B2B eTrader recently developed a free application that can be uploaded to these phones.
The Android and B2B eTrader
The Google Android was designed to be an alternative to the iPhone. Since it was first introduced, it has made computing and the use of different applications more mobile. This has led to changes in how someone will use the Internet. To adjust with these transformations, B2B eTrader has created a free application for Android users. This is where they can visit the online marketplace and utilize other tools to address their needs.
What is B2B eTrader's Philosophy?
B2B eTrader was created with the intention of providing business owners and professional with next generation tools to address their critical needs. The way that this is accomplished is through giving all users free access to the online business marketplace. This is where buyers and sellers can directly contact each other. At the same time, everyone can be able to go to the chat rooms and message boards. This is where they can discuss new ideas with some of the most successful entrepreneurs. The combination of these elements is giving firms that ability to address their critical needs and reduce their costs. This is helping to make these organizations more competitive. The introduction a new application is a sign of how B2B eTrader is now bringing these tools to users on the go. Making it ideal for businesses and professionals to buy, sell, or trade a host of commercial used equipment, like restaurant equipment, medical equipment, office equipment, heavy equipment, IT equipment and more. In the future, this will allow them to improve their time management and deal with critical issues impacting their business.
Future Changes
To keep up with the current trends, B2B eTrader is also in the process of developing applications that can be used on the iPhone and Windows based programs. This will improve the ability of users to access these tools from anywhere they are located. When this happens, they can utilize this technology to make their firm more competitive (through having different options available to them).
Clearly, B2B eTrader is at the forefront of innovation with the development of the new Android application. This is the first in series of mobile solutions that are helping to make firms more competitive over the long term. Those entrepreneurs who are constantly utilizing these tools have found that this is an effective way to multi task and address critical needs surrounding their business. This is when they will be more competitive over the long term.