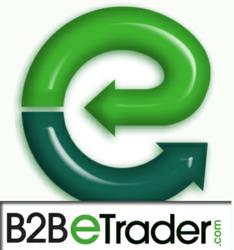 Supporting Small Businesses in 2012!
Tampa, FL (PRWEB) June 07, 2012
Over the last several years, a trend has been occurring in the way everyone is interacting with one another (as online technology is playing a central role). This is because the Internet has become the one medium where people are connecting with one another. A good example of this can be seen with 1 billion people using: Facebook, Twitter, You Tube and Linkedin to effectively communicate with each other. This has created a transformation in how everyone will use information to reach out to various stakeholders.
B2B e Trader has been at the forefront of these changes by effectively integrating Social Broadcasting Technology as part of their overall strategy. This is allowing everyone the opportunity to directly connect with the other party for free. In the case of entrepreneurs, this can help to give them an advantage in reaching out to third parties. Once this occurs, is when a firm will have another avenue of being able to increase their revenue stream.
B2B e Trader and Social Broadcasting Technology
B2B e Trader has created a platform that will allow users to directly connect with potential buyers simultaneously through: Facebook, Twitter, Linkedin, Pay Pal Access, AOL and many others. This is the only company that will allow someone to advertise their message on various social networking sites at the same time. For entrepreneurs, this is helping them to streamline their advertising efforts and utilizing social networking as a way to reach out to targeted users. This is giving these firms, the ability to address of a host of issues quickly. As, these tools can help to keep an organization one step ahead of the competition. This is when they can maintain market share by being the first company to address the changing needs of customers.
How Social Broadcasting Technology is Benefiting Users?
Social broadcasting technology is helping users to dramatically lower their advertising costs. This is because the service is free and can be customized to various social networking sites and social communities. For business owners, this is creating a situation where they can locate parties that are interested in: the different products, services or equipment they are offering. Making it ideal for businesses and professionals to share advertising listings to buy, sell, or trade a host of commercial used equipment, like restaurant equipment, medical equipment, office equipment, heavy equipment, IT equipment and more. This allows both parties to focus on creating win – win scenarios from the transaction. Once this takes place, is when businesses will benefit from using social networking to address the various challenges they are facing. B2B e Trader is at the forefront of these transformations, by creating broadcasting technology that allows users to simultaneously reach out to different parties. This reduces advertising costs and it assists firms in addressing their most critical needs. Over the course of time, this will help to make them more productive.
Clearly, B2B e Trader is changing the way that entrepreneurs are reaching out to other parties in dealing with various challenges that are impacting their business. This is accomplished through utilizing social broadcasting technology (which allows users to post their ads on various social networking sites for free). In the future, this is addressing critical needs and it is reducing the total costs. This helps to make a company more competitive and flexible in adjusting to a host of challenges.
B2B e Trader developers are also working on a personal listing website with its Social Marketing Broadcast Technology and is the leading firm revolutionizing the way we do business.