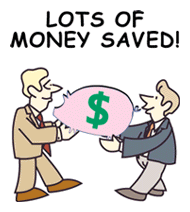 Supporting Small Businesses in 2012!
St. Petersburg, FL (PRWEB) August 14, 2012
When most people think about bartering, they will often have images of two parties working out some kind of backroom deal for specific goods and services. Contrary to these misconceptions, bartering is an effective way for businesses to address their most critical needs. In the last few years, Hollywood and the recession have increased its popularity. As shows such as Barter King, American Picking, Auction King and Storage Wars are highlighting the benefits of this practice. This is having a positive impact on these kinds of transactions with them increasing by 15% during the last recession to a total of $12 billion (according to the Indianapolis Business Journal). This is illustrating how a wide variety of firms are turning to bartering as a way to address their most critical needs.
To help firms adjust with various challenges, B2B e Trader is introducing a new application for the online business to business marketplace. This is a free bartering orientated solution. Making it ideal for businesses to barter used equipment, like restaurant equipment, medical equipment, IT equipment for other goods or services in need. It allows someone to locate other parties who are interested in trading for specific products or services. Over the course of time, this helps firms to reduce their costs and deal with critical issues.
The Online Marketplace and Bartering
The online marketplace's bartering tools are a state of the art application. That is utilizing social broadcasting to connect with interested parties. The way that it works is users will create a classified advertisement and post it on the web site. To increase the odds of success, the ad is shown to specific groups on various social networking sites (i.e. Facebook, Twitter and LinkedIn). They can directly contact the other party about bartering for specific products and services.
Moreover, everyone is provided with free access to the message boards and online chat rooms. This is where users can discuss specific trends and ideas about trading with some of the most successful entrepreneurs. For small business owners, this gives them the ability to create customizable strategies that will address their needs without increasing costs. As bartering is the most effective way that they can be able to achieve these objectives.
Therefore, those firms that are using the online marketplace are reducing their costs and they are successfully dealing with critical issues. This is helping small businesses to focus their strategy on specific groups. When this happens, their efforts are more fruitful because they are utilizing the latest technology in reaching these goals.
Clearly, Hollywood and the recession have led to an increase in bartering. This is because both factors have made this practice popular and profitable. For small businesses, this is giving them a strategic advantage in addressing their most critical needs. Once this takes place, is when there will be a transformation in how these firms are dealing with future challenges and the kinds of tools they are utilizing to address them. B2B e Trader's bartering tools are offering firms with the ability to achieve these objectives via social broadcasting (for free). This is when these organizations can intelligently connect with stakeholders and create win – win situations. In the future, this allows small businesses to have new strategies for adjusting to sudden changes in customer demand and the economy.