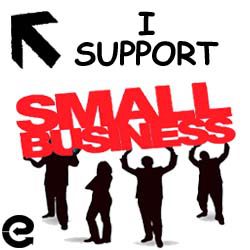 Supporting Small Businesses in 2012!
St. Petersburg, FL (PRWEB) August 22, 2012
Over the last several years, the American workforce has been going through dramatic changes. This is because globalization is having an impact on the employer – employee relationship. As a shift is taking place in the number of individuals who are: self-employed, independent contractors or freelancers. These individuals have become a vital part of how firms are keeping their costs down and increasing productivity. Evidence of this can be seen with statistics compiled by the IRS. They determined that there was an increase of 10 million people (who were working in these areas) from 1990 to 2010. In the majority of cases, these people are considered to be small businesses that are vital to economic growth.
To highlight the importance of small businesses to communities, B2B E Trader created a new Facebook page called #isupportsmallbiz that is discussing critical ideas. It is a Non-Political movement serving as a voice for these firms and it is giving stakeholders the ability to speak their minds. The impact of these activities is that small businesses are more unified and focused.
B2B E Trader is leading the Way
B2B E Trader has been at the forefront for protecting the interests of small businesses. At first, this was taking place through the creation of the online business to business marketplace. This is a state of the art application that is allowing firms to directly connect with stakeholders for free (using social sharing technology). At the same time, they are a Small Business Advisor and Advocate for the US Chamber of Commerce. These areas are showing how B2B E Trader is providing something more to small firms.
The launch of the Facebook page is designed to highlight those challenges that are impacting firms and their effect on the US economy. This is because many economists and key political figures are ignoring the needs of small businesses. To raise awareness, B2B E Trader has established this application as way of giving something back to these firms. In a critical election year, this is an important tool for everyone to post their opinions about the effects of key factors on the economy. At the same time, these individuals and firms have the opportunity to leave messages to those small businesses or organization that they like the most. This helps to increase their exposure. When this happens, they can create a larger following using social networking.
Clearly, the shifts in the economy are having a dramatic impact on way firms are interacting with employees. This has resulted in changes to the employer – employee relationship. This has forced many individuals to become small business owners, independent contractors and freelancers. B2B E Trader is serving as a voice for these segments with their new Facebook page. This application is designed to discuss and highlight the most important issues affecting small businesses. In an election year, this is helping to talk about how specific activities will have an effect on the economy. Once this takes place, is the point that different political parties will be aware of these challenges and their effect on smaller firms. This will provide these organizations with a single voice that has tremendous influence over various stakeholders.