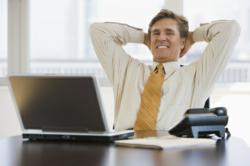 Owning your own barter software is like controlling your own business - the only person with access to your data and financials should be you.
Naples, FL (PRWEB) January 03, 2012
Tom McDowell, an expert in the barter software development business since the early 1980's, originally created TAB (Trade and Barter) System - one of the very first available computerized software programs. TAB quickly became the industry standard, providing a single-user program primarily providing automation for the accounting of trade transactions among exchange network businesses, along with billing transaction fees, processing monthly statements and reporting the required 1099-B information to the IRS. As a result of the TAB System, many labor hours were saved. By eliminating the need to manually post and calculate hundreds to thousands of trade transactions monthly, trade brokers were then freed up to focus upon customer service, sales to increase trade volume and accelerate success.
After 30 years in the barter industry, McDowell is still providing the idyllic barter software program to proficiently handle all of the daily operational and marketing needs for a trade exchange network. Over the years, the industry has evolved and been enhanced by the Internet, creating new software needs. Ultimately, BarterSolutions was conceived as the state-of-the-art online software solution for owners looking to make their exchanges more profitable and who did not wish to share their data (or their profits) with the software development and management companies.
Perhaps the best part of BarterSolutions is that barter exchange owners can maximize the potential of their trade exchange, by owning the software outright, with a one-time purchase price. No monthly fees. No need to share percentages forever with a franchisor or software development company – who may be processing transactions on the exchange's behalf. "Owning your own barter software is like controlling your own business - the only person with access to your data and financials should be you," said McDowell.
Designed for the effective operation of an exchange system network, BarterSolutions offers many profitable management tools which increase efficiency and help improve trade volume:

Simple records are maintained directly by the exchange – no sharing of confidential client data
Fee management allows for the exchange to keep 100% of earnings
Customer relationship management
Directory promotes the products and services of members
Online Marketplace allows for one-of-a-kind items to be listed and sold easily
Automated e-mail marketing program stays in constant contact with members
Automatic referral processing speeds up the sales process and increases trade volume.
Conversation note recording provides for efficient follow up and increased sales
Simple and complete accounting and reporting – with real time fee processing
Paperless statement processing
IRS 1099-B reporting
Enhanced prospecting efforts with request tracking
BarterSolutions is ideal for exchange owners looking for an economic solution to barter software needs. To view the program designed to help grow trade volume – schedule a free online software demo today.
Company Information
BarterSolutions, is a comprehensive proprietary online barter software program developed for entrepreneurs starting or operating their own barter exchange network. For over 25 years, Barter Trainer and industry expert, Tom McDowell, has provided exchange owners with the necessary software, marketing tools, training and resources to operate a profitable exchange network. In addition, McDowell has trained and educated entrepreneurs across the U.S. and Canada, with training program graduates in Bulgaria, England, Columbia, South Korea, New Zealand, Brazil and Australia. The 3-day training program is presented in person by Tom McDowell in Cleveland, OH and Naples, FL or via Internet webinar sessions.
For additional information on BarterSolutions or the business training program, contact Tom McDowell at 440.488.1683 or by email at tom(at)bartertrainer(dot)com. Visit http://www.bartertrainer.com for complete details.
###