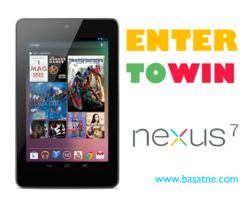 Giveaways are now going to be a regular part of our social strategy.
Toronto, ON (PRWEB) August 01, 2012
Fans and followers of Basatne Electronics will have the chance to get the new Asus Google Nexus 7 Tablet for free this month in the latest sweepstakes offer from Basatne. Details of the giveaway can be found on the company blog. The contest will close on August 31, 2012.
Last month Basatne Electronics ran their first social media sweepstakes and were very impressed with the response. "We expected people to sign up for the contest, but we didn't realize how quickly they would share it or how involved they would be after they signed up," said Ammar Aboulnasr, CEO of Basatne Electronics.
The prize for last months giveaway was the Galaxy SIII, the newest flagship smartphone from Samsung. The contest was created as a celebration of the company's Canadian roots and was launched on Canada Day 2012. This month the company will be giving away two devices, one 16GB and one 8GB Nexus 7 to the first and second random winner respectively.
With over 7000 entries in July's sweepstakes, Basatne Electronics is giving their new fans and followers another chance at a prize. "Giveaways are now going to be a regular part of our social strategy," said Aboulnasr, "it's just another part of our goal to provide our customers with information from the electronics industry and offer top-notch customer service."
Entrants can enter once as a follower on Twitter and once as a fan on Facebook, and can also earn extra entries by sharing the contest with friends. Those who want to skip the contest and buy the Asus Google Nexus 7 tablet directly can do so at http://www.basatne.com.
ABOUT BASATNE ELECTRONICS
Basatne Electronics is a wholesaler and retailer that offers consumer electronics at wholesale prices. At Basatne, customer satisfaction is a top priority and is met by offering the best in high-end technology and quality customer service. Established in 2009, Basatne Electronics is headquartered in Toronto, Ontario and White Plains, New York, and ships to customers worldwide.