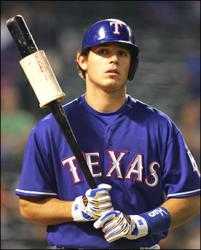 Kinsler's soft brown eyes say sensitive, scruff screams seductive, and lips add just a touch of sweetness. - Helene Caniglia, FBD reader
Philadelphia, PA (PRWEB) July 19, 2012
Fantasy Baseball Dugout, primarily known for their fantasy baseball tips as well as their annual Baseball's Hottest Wives gig, announces their Baseball's Hottest (Looking) Players contest.
As a nice change of pace, the company decided to put the ball in the ladies' court this July. They're conducting the most anticipated annual event among female baseball fans, the Diamond Studs Contest. This year, they have teamed up with Advanced Telecom Services, a mobile marketing company that provides the same short code (84444) in both the US and Canada, to provide text message voting to help determine the sexiest player in Major League Baseball.
Two years ago, after much heckling from their female readership, FBD created a contest much like Baseball's Hottest Wives, but instead ran Baseball's Hottest (Looking) Players. The contest was promoted via Twitter and Facebook and allowed fans to tweet and post their votes. Well, they're at it again, but they've thrown in a curve ball – text message voting. FBD hopes they will be able to reach an even greater audience with the incorporation of mobile.
The contest features 25 Major League Baseball players that many women wish they could hit a home run with. Derek Jeter, 2010 winner, and Joe Mauer, 2011 winner, are both contestants this year as well. Can one of them hold their title or will he be picked-off at first base?
As for what position our female readers like, they overwhelming enjoy playing the field. The vast majority of nominations are outfielders. Following not far behind is pitcher. Although starting pitchers only get to see the field once every five games, the ladies seem to love a man in control and calling the shots from the mound.
So without further ado, here is the Dream(y) Team lineup for Baseball's Hottest (Looking) Players:
1. Adam Wainwright - St. Louis Cardinals
2. Alex Rios - Chicago White Sox
3. Andre Ethier - Los Angeles Dodgers
4. Barry Zito - San Francisco Giants
5. Brett Lawrie - Toronto Blue Jays
6. Chase Utley - Philadelphia Phillies
7. CJ Wilson - Los Angeles Angels
8. Cole Hamels - Philadelphia Phillies
9. Curtis Granderson - New York Yankees
10. Daniel Bard - Boston Red Sox
11. David Wright - New York Mets
12. Derek Jeter - New York Yankees
13. Grady Sizemore - Cleveland Indians
14. Hanley Ramirez - Miami Marlins
15. Ian Kinsler - Texas Rangers
16. Jacoby Ellsbury - Boston Red Sox
17. Jake Arrieta - Baltimore Orioles
18. Jayson Werth - Washington Nationals
19. JJ Hardy - Baltimore Orioles
20. Joe Mauer - Minnesota Twins
21. Matt Kemp - Los Angeles Dodgers
22. Nick Markakis - Baltimore Orioles
23. Robinson Cano - New York Yankees
24. Ryan Braun - Milwaukee Brewers
25. Sean Rodriguez - Tampa Bay Rays
Check out your favorite player at 84444. Be sure to vote via text message by texting MLBSEXY (space) (number) to 84444. And don't forget to check out Fantasy Baseball Dugout to view the results.
Advanced Telecom Services, established in 1989, is a mobile marketing company specializing in mobile website development, IVR, text message voting, and more.
Fantasy Baseball Dugout brings fantasy baseball rankings, advice and news to help baseball gurus win their fantasy baseball league. They also keep baseball fans updated with league happenings.