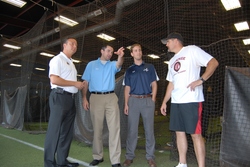 After meeting with Baseball, LLC and examining their current operations, we have no doubt that they have the ability to properly operate a facility
Maryville, Tenn. (Vocus) September 22, 2009
Baseball, LLC, a group of East Tennessee investors that recently purchased Cherokee Athletic and Cherokee Baseball and Softball Academy, has hired Ripken Design of Aberdeen, Md. to evaluate the feasibility of constructing a local multi-million dollar world-class baseball and softball complex as a national and regional draw.
Representatives of Ripken Design visited Blount County a second time last week and met with Baseball, LLC representatives to discuss the project. Baseball, LLC has been talking with Ripken Design - baseball legend Cal Ripken, Jr.'s firm specializing in the design and management of amateur and professional sports facilities - for the past six months. Ripken Design was officially hired by Baseball LLC at the beginning of August to conduct the feasibility study, which will be finished by the end of this month.
If the feasibility study shows that a baseball and softball complex makes sense for East Tennessee, Baseball, LLC is prepared to move forward quickly with obtaining land and beginning the project. Groundbreaking for Phase One of the complex, which includes seven or eight fields, could begin as early as next year.
Because of the Great Smoky Mountains National Park, the McGhee Tyson Airport, easy access to major interstates and an already-established tourism base, East Tennessee is a great location for a baseball and softball tournament and training facility according to Baseball, LLC. Early indications are that the Ripken Design feasibility study supports Baseball, LLC's beliefs.
"These facilities typically bring in families - not just the players," said Jeff Eiseman, Vice President of Ripken Design. "These families usually come in to play baseball or softball and stay in the community for the whole weekend or longer. They stay at hotels, eat at restaurants and go out and do the same things typical vacationers do. They spend a considerable amount of money while they're in town."
"With a shift towards family travel in youth sports tourism, a complex must have a great location, great operations, and great amenities in and around the facilities in order to be successful. The Smoky Mountains, Pigeon Forge, and the Knoxville area are very conducive to the type of family travel and entertainment necessary for a destination complex."
"After meeting with Baseball, LLC and examining their current operations, we have no doubt that they have the ability to properly operate a facility" Eiseman continued. "With two out of the three necessities met, we are now completing the due diligence to see if the location is the right fit for such a complex. If the study finds favorable participation numbers in the area, we believe the proposed facility could be a huge success, not only for Baseball, LLC but also for the growth of the game of baseball as well as the quality of life for the surrounding community."
Baseball complexes similar to the one Baseball, LLC wants to develop can draw as many as 2,500 people for a single three-day tournament, and most complexes have 30 to 40 tournaments each year. A complex in this area with these types of fields could operate from February through November, extending the tournament season for teams from northern climates. Early estimates indicate that Baseball, LLC's complex could generate $19 million to $25.5 million for the local economy every year.
Other Ripken Design sports complexes are successfully operating in cities including Myrtle Beach, S.C., Aberdeen, Md. And Baton Rouge, La.
Former Major League Baseball player Doug Bochtler , spokesman for Baseball, LLC and one of its investors, says that a world-class complex could be a huge economic boost and a significant tourism draw for the entire region.
"Ripken projects are known for their park-like settings, ample use of green space and country club-like appearance," Bochtler said. "Communities are standing in line waiting for sports complexes like the one we want to do here. Ripken Design helps groups like Baseball, LLC build beautiful facilities that contribute to the local economy and provide family and youth-oriented fun. It's a win for everyone."
The Baseball, LLC group says it is only considering areas where the baseball and softball complex would compliment or enhance the existing surroundings and fit into the community's existing development and growth plans.
"This area is perfect for a world-class sports facility," Bochtler said. "We have an initial goal of providing an unparalleled training facility for youth who will call this complex home for their various teams. This will be a state-of-the-art indoor and outdoor training operation with strength and conditioning, nutrition, video training and one-on-one and team coaching from former college and professional players, coaches and scouts. The playing fields will be second-to-none.
"The new facility will also provide the opportunity for league competition during the week and tournament play on weekends. This gives athletes a consistent training and playing schedule that greatly enhances and reinforces the skills they learn in their individual training sessions."
With a superstar staff that includes Bochtler, who played Major League Baseball for San Diego, Detroit, Los Angeles and Kansas City, and Maryville native Sarah Fekete Bailey, who shattered softball records at the University of Tennessee and went on to play professional fast-pitch softball for the Philadelphia Force, training and instruction will also play a big role in the new complex. Athletes currently travel from all over Tennessee to Cherokee Academy for training.
Ripken Design says it will submit its feasibility study to Baseball, LLC by Oct. 1, 2009.
Media: High resolution photos are available of the Ripken Design personnel meeting with Baseball, LLC upon request. For more information or to arrange interviews, please contact Rick Laney at (865) 584-0550.
Media Contact:
Rick Laney
(865) 584-0550
# # #