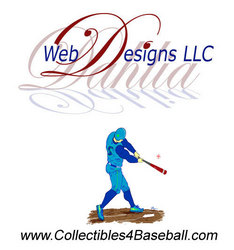 All products are authentic and guaranteed by America's leading company, Steiner Sports.
Los Angeles, CA (Vocus) October 15, 2009
Dahlia Web Designs LLC signs with Steiner Sports to expand its authentic baseball product line at Collectibles4Baseball online store. Baseball fans will enjoy viewing all the new and more expansive inventory of products. In addition to baseballs, the store now carries photos, helmets, bats, scorecards, lineup cards, jerseys, gloves and jackets. Each hand-signed product comes with a certificate of authenticity. As the contending MLB teams are progressing towards the World Series, fans will feel a great connection with their favorite players and teams. The inventory contains thousands of products, all the major teams and Hall of Famers.
States Dahlia, "All products are authentic and guaranteed by America's leading company, Steiner Sports." Steiner Sports describe their authentication process as follows: 'Each and every hand-signed collectible that carries a tamper-proof hologram is witnessed by a Steiner Sports representative. Once the collectibles have been autographed, they are cataloged and inventoried. A notarized affidavit is prepared and signed by the athlete and a Steiner Sports representative. The notarized affidavit records the date and location of the signing and also details the items that were signed by the specified athlete. This document is then secured within the Steiner Sports main offices. Each hand-signed collectible is examined for quality and signature condition. If the collectible meets the Steiner Sports standard of excellence a tamper-proof Steiner Sports hologram is affixed to the product. Once the hand-signed collectible has passed the steps listed above, a Steiner Sports Certificate of Authenticity is created for the collectible. The collectible is then sealed and stored within the main office and is not handled until it is delivered to a sports collectible enthusiast.'
Join our mascot, The Baseball Player (illustrated by Ana Benaroya), by visiting our store and seeing the whole collection of exciting products. Says Dahlia, "By signing up for our free e-Newsletters, members will be able to receive email-only discounts, customer loyalty reward points and other specials." The new toll-free number is 1-888-7-DAHLIA ext 5.
"We are excited to add this newest store to our portfolio of services," states Dahlia. "We like connecting themes across our divisions. There is a great opportunity for parent-child bonding with our products. While the parents enjoy their favorite authentic baseball products, their children can enjoy great kids furniture with their favorite team's logo on it. Both can enjoy their adult and child director's chairs while they watch exciting games. And the awesome toy chests can be used to store the baseball equipment used at play time. This is a great way to teach children to organize and treasure their belongings."
About Dahlia Web Designs LLC:
Dahlia Web Designs LLC provides website and internet marketing, strategies and design services. Dahlia Benaroya, President, has over 20 years experience in business, technology integration, marketing and design strategies and services. Prior to forming this company, she was the directory of Business/Technology Integration at an international pharmaceutical company, where she was responsible for spearheading strategies, implementing projects, and ensuring customer service. In addition to Collectibles4Baseball.com, other divisions are the SurefireOrganization.com, the GreatKidsCorner.com online kids furniture store, the KidsLoveTo.com website series for children's portfolios of achievement, the RecommendedReferrals.com directory of small businesses that offers children's products and services.
###