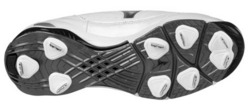 Enhancing the player experience is our top priority
Wichita, KS (Vocus) February 25, 2010
BaseballSavings.com, a website offering the largest and broadest selection of baseball products in the world, and a distinguished brand in the portfolio of Redcats USA, is pleased to introduce some of the sport's most innovative and game-enhancing products. The brand's latest equipment offerings prove yet again that BaseballSavings.com understands its customers' need to stay one step (or homerun) ahead of the competition.
Since 2006, serious sluggers have shopped BaseballSavings.com for the latest technology enhancements in performance equipment. Parents depend on the site to find deals for their little league all stars. And weekend leisure players can't hold themselves back from the incredible selection of products that fit any skill or budget. What's more, the brand keeps its loyal customers continually informed of hot deals and merchandise via social networking sites like Twitter and Facebook.
BaseballSavings.com consistently delivers baseball's best, now including:
9-Spike Classic Switch Metal Cleats – Made entirely of environmentally safe Earth-friendly materials, these metal cleats have interchangeable color swatches to match your team colors including 13 color inserts. They also feature premium dynamic synthetic leather, providing feel, durability, comfort, and breathability. Their patented 9-Spike Technology provides optimal lateral traction for first step quickness, along with DryLite moisture managing mesh for comfort and moisture control. The Forefoot Flex response with Proflex multi-zone flex points are complemented by VS-1, a shock absorbing compound found in the heel and forefoot which extends cushioning life of the shoe, while WAVE Technology enhances both stability and cushioning for unsurpassed performance. Colors: Black/White or White/Black, Sizes 8-13 (including ½'s) 14, 15. Price is $94.95.
Stealth Speed Baseball Bats – With a variety of Adult, Senior and Youth models, the Stealth Speed bats tout Carbon Nanotube Technology (CNT), which strengthens composite structures, optimizing designs for maximum performance. Also incorporated into the bats' design is a Vibration Reduction System, which boasts a rating of 95 and eliminates sting on contact. Opti-Flex™ CNT composite handle technology provides maximum handle flex, and ConneXion technology provides an efficient energy transfer. Patented IMX™ - Integrated Matrix Technology - enhances the bat's performance, including a Pro-Tack cushioned grip for comfort. Customers can take advantage of an exclusive 400-day warranty. Prices start at $249.99.
Vintage Pro G3 Batting Gloves – Made of top quality leather for durability, these batting gloves sport leather palms, which absorb vibration, along with sensor point palm technology to improve grip. Airmesh is incorporated into the design for comfort and ventilation. Grip tabs ease gloves on and off hands, and for a comforted fit, a pre-curved finger design and flex thumb cut enhance flexibility. Ergonomic cut replicates normal function of the hand. Mizuno's logo on wrist. Colors: Black, Black/White, Cardinal/White, Forest Green/White, Navy/White, Orange/White, Purple/White, Red/White, Royal/White and White. Sizes: Small, Medium, Large, X-Large, XX-Large. Price is $14.95.
"Enhancing the player experience is our top priority," said Brad Wolansky, CEO of BaseballSavings.com for Redcats USA. "That experience is on and off the field. On the field, they want the best in baseball performance equipment. Off the field, they want a quality shopping experience, and the BaseballSavings.com team is committed to providing exceptional service to our customer."
BaseballSavings.com continues its tradition of exceeding the demands of baseball players and supporters by providing the best performing name brand products at reasonable prices.
About Redcats USA
Redcats USA is a dynamic, multi-channel, web-driven home-shopping leader, with numerous well-known brands in its portfolio: AVENUE®, Woman Within®, Jessica London®, Roaman's®, KingSize®, BrylaneHome® and BrylaneHome® Kitchen sold on OneStopPlus.com®, The Sportsman's Guide® and The Golf Warehouse®. Redcats USA offers a wide range of value and quality driven merchandise categories, including men's and women's plus-size apparel, home and lifestyle products, and sporting goods/outdoor gear. Redcats USA is a Redcats Group company.
About Redcats Group
Standing at the forefront of fashion, design and e-commerce, Redcats brings together 16 brands in home shopping : Avenue®, Woman Within®, Jessica London®, Roaman's®, KingSize®, BrylaneHome®, OneStopPlus.com®, The Sportsman's Guide®, The Golf Warehouse®, La Redoute, La maison de Valérie, Vertbaudet, Cyrillus, Somewhere, Daxon and Ellos, present in 30 countries. Redcats generated 3.386 billion euros of sales in 2009, including 47% on Internet and employs approximately 18,000 associates. Redcats distribution network combines e-commerce web sites (more than 60), catalogues and stores (more than 600). Redcats is a PPR Company. For any further information: http://www.redcats.com
Contact Information
Pat Cross,
Vice President, Corporate PR & Communications
Redcats USA
212-502-9315
###