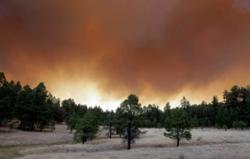 With what is being recorded as the third largest blaze in the history of the state, wildfires in Arizona have destroyed more than 389,000 acres and over 600 square miles of forestland.
Atlanta, GA (PRWEB) June 09, 2011
In the most devastating forest fire in recent years, cleaning up the wreckage has been easier due to the rise of the internet. A nationwide water and fire damage restoration network out of Atlanta, GA has vowed to provide service to those whose homes have been affected by the blaze. The company, Water Damage Local, started just 3 years ago and has already signed on over 200 damage restoration companies. These companies specialize in a wide range of services, including basement flooding cleanup, water damage restoration, mold remediation, fire/smoke restoration, and more. Those affected by the Wallow fires should visit Water Damage Local's website for help. Read on for more details on the dire situation in Arizona.
With what is being recorded as the third largest blaze in the history of the state, wildfires in Arizona have destroyed more than 389,000 acres and over 600 square miles of forestland. The wildfires have also forced the evacuation of more than 3500 residents in some rural communities.
The fire started on Saturday in the Wallow area and has produced a smoke cloud that has spread to engulf the Apache-Sitgreaves Natural Forest along the Arizona-New Mexico border. So far ten buildings have been destroyed, with another 343 threatened, but no serious injuries or fatalities have been reported. The smoke cloud can be seen from as far away as Colorado, Kansas, Nebraska, and Iowa, as well as from outer space.
As a result of the smoke, some are reporting having problems breathing, but for others the problem is more severe. Those already suffering from allergic reactions may experience itching eyes and congestion as a result of smoke inhalation. In some neighborhoods, residents have begun wearing masks to filter out the smoke and cut down on the harmful effects.
Arizona governor Jan Brewer has already declared a state of emergency and released $200,000 in emergency funds to assist with emergency responses and recovery expenses. Many evacuated residents are playing a waiting game in local shelters, no doubt wondering if they will even have a home to return to.
The blaze has been fueled by a number of factors, not the least of which are wind gusts of up to 50 mph that help push the flames across the largest Ponderosa pine forest in the world. The winds are also responsible for the large number of spot fires occurring several miles ahead of the primary front of the blaze. Another factor is the current Arizona drought, which is heading into its 14th year and continues to make conditions ripe for forest fires and wildfires to occur.
Over the last twenty years in Arizona, only eight wildfires exceeded 50,000 acres burned, with only three of those burning more than 100,000 acres. So far this season, there have already been three fires that obliterated more than 50,000 acres, two of which have burned more than 100,000.
So far there is zero percent containment on the fires, and several mountain towns may be threatened by the ever growing blaze. Firefighters say the speed with which the fire is spreading makes it very difficult to contain effectively.
Across the border, in New Mexico, authorities have told the residents of Luna to prepare for a possible evacuation. The National Weather Service has warned that winds up to 40 mph combined with continued low humidity levels could continue for the next several days, causing the fire to spread in that direction.
There are also two other Arizona fires burning out of control, as well as one located in New Mexico, but the Wallow fire is by far the largest and most destructive.
The Arizona wildfires are a grim reminder that natural disasters can occur anywhere, and at any time. Fires not only cause tremendous damage as a result, but also may cause water damage to homes and businesses as the result of fighting the fires. Water Damage Local is ready and available 24/7 to assist with damage clean up, repair, and restoration, offering trained staff, state of the art equipment, and a full range of services designed to restore any property to its pre-loss condition.
###