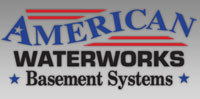 Our service area takes in most of southeastern Minnesota, as well as areas of northeastern Iowa and western Wisconsin including Eau Claire, La Crosse and Menominee.
La Crosse, Wisconsin (PRWEB) June 16, 2011
With the spring flood season well underway and more big rains and high waters still ahead this year; American Waterworks is proud to announce services are now available for home and business owners in Wisconsin. American Waterworks has been in the waterproofing and foundations business for more than 20 years and the company's professional installers are experienced in solving the wide variety of problems that allow water into basements and other areas below ground level. They've helped property owners with thousands of repairs and other restorations to homes and other buildings in southeastern Minnesota and northeastern Iowa.
"Our service area takes in most of southeastern Minnesota, as well as areas of northeastern Iowa," says Nate Proper of American Waterworks, "We're excited about bringing our services to western Wisconsin including Eau Claire, La Crosse and Menominee."
The company employs products and methods that have been tested and proven in use. Many also have been recognized in articles in trade magazines and other publications, among them Builder Magazine and Fine Homebuilding. When a standard product doesn't work, American Waterworks can design its own. They have taken patents on more than 20 separate systems over the years.
Common water infiltration problems in Wisconsin are much like those in Minnesota and Iowa and include water leaks, high humidity, cracks in walls or a slumping foundation. All of these can cause damage to below ground areas. American Waterworks combines two decades of experience with the right tools to make quality repairs and corrections.
Foundation damage can come in many forms, such as soil density changes causing the foundation to lose its weight bearing capacity. Foundation walls and crawl space foundations are also susceptible to the same kind of issues. American Waterworks has many solutions for problems of this kind; wall anchoring, push piers, and helical piering are just a few. The foundation repair service offered by American Waterworks is as thorough as they come. Whether the client's foundation is cracked or settled, American Waterworks will give an assessment and a no cost, no obligation, estimate for the repair.
Leaking basements are a huge problem in the Minnesota, Iowa and Wisconsin areas. American Waterworks uses the award winning Waterguard waterproofing system to keep basements dry all year round. Their drainage system also carries the industry's best guarantees and, once installed, has the lowest number of return calls for service.
Crawl spaces are another problem area and can become humid causing mold and even wood deterioration to supports. American Waterworks can put in vents to keep humidity out. Other solutions include encapsulation of the crawl space completely protecting the area.
"Another common problem in the Wisconsin market is damp basements," according to Mr. Proper, "Basement air systems allow for a cleaner, healthier, basement atmosphere."
American Waterworks can help customers choose a dehumidifier that is a good fit for their house and is acceptable to the customer's life style. American Waterworks can suggest eco-friendly solutions like energy star dehumidifiers so customers can be confidant in their investments.
A sump pump often is the best defense against a basement full of water. An effective pump quickly will pull water out of basements and outside homes in times of heavy rain or other accumulation. A sump pump is situated in a basement floor. It is connected to a drainage system along the walls around the rooms. The drains carry water to the well, where the pump is set. The pump automatically pushes the water out of the basement using a pipe or hose running through the exterior wall of the house or building. To keep your sump pump running even during a power outage we suggest using our award winning TripleSafe battery backup option. American Waterworks is ready to help customers choose and install a sump pump in any basement.
American Waterworks is always ready to supply its customers with free estimates and quality service in Minnesota, Iowa, and Wisconsin. Customer satisfaction is import to the company's entire staff and testimonials like this one, from Shawn G. L. of Woodbury Minnesota, attest to the company's dedication and superior service. "First Rate Service - Top to Bottom, from your entire staff! Excellent Crew. Thank you."
###