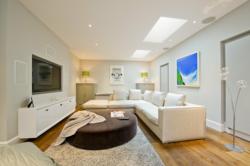 UK homes no longer acommodate the storage space required for our modern day living styles
Burnley, England (PRWEB UK) 18 May 2012
Managing Director Andrew Latimer of Basement Living specialists in basement conversion heard on the BBC Radio 4 Today show about the serious problem people are now facing in the UK which has been caused by the modern living styles people have adopted resulting in major storage problems within people's homes.
Harry Rich, the Chief Executive for the Royal Institute of British Architects (RIBA) explained some of the research in which he found out that the most significant issue being faced by homeowners and those renting property to live in is the problem of storage. Most shockingly many people do not even have enough storage space for basic day-to-day items.
What is needed in terms of storage within UK homes?
This question formed the basis of the research by RIBA, but more importantly what it is that is taken account of when purchasing a new home or looking at a place to rent. The research observed how people lived rather than asking them what it was they wanted to change and this provided a better insight into the problem of storage.
Concluded in the research it was found that there isn't enough space in UK homes in order to accommodate modern day living and this was probably because homes today are designed just as they were twenty years ago. For example in houses today there are not enough plug sockets to comfortably accommodate the amount of new technology regularly used on a daily basis.
There are a number of other features missing that need to be changed in order to make houses ideal for modern living but the above is an example which highlights the change needed to be made so that the next generation of homes are built so that they are fit modern day living.
No one would choose a home based on amount of storage; people do not walk into a property and look at all the cupboards and storage facilities that isn't what happens because decisions are made on instinct.
People want more information providing about storage solutions and energy efficiency. There is information out there on this however it needs to be in a simpler format so that people can understand it easier.
Lesley Spellman who runs a company called Clutter Fairy noted that in recent times people have a problem with storage and clutter in their homes. Her company go into a home and challenge people as to whether they actually need all the "stuff" present. The aim is to get people to de-clutter and then advise on how to use space to its maximum potential.
Who is to blame for the lack of storage solutions?
A more open plan style of living has been adopted where storage once was on walls there isn't anymore because there is nowhere to position it. So is it the architects and designers who are at fault or the builders who build the homes?
The bottom line is that living styles have changed and people need to realise that they have the right to ask for what they want and what they require and ultimately get it.
What can people do to better utilise the space in their home?
Basement Living Ltd is aware that there is a whole list of things people could do to better utilise the space in people's home. One item which will have a massive impact and on space is a basement conversion.
Basement conversion provides added space the size of the footprint of the existing home. Whether homeowners have a basement in place that is damp and unusable or whether they have no basement at all – it doesn't matter.
If a basement is damp and unusable then contact a basement waterproofing specialist like Basement Living. A waterproofing system will be specified to effectively waterproof the basement so it can be used as a room without there being any damp, mould or ingress of water through the walls.
Some homeowners may not even have a basement but this is fine too, in the majority of cases basement excavation can give them the basement they require in order to provide them with the space which they need!
Struggling for storage space? If this sounds familiar then do not just suffer and drown in litter and clutter, contact Basement Living Ltd and discuss a basement conversion.
About The Company
Basement Living is the definitive resource for basement conversion information along with information concerning basement waterproofing, basement excavation and new build waterproofing with over seventy years' experience as part of the Wykamol Group.