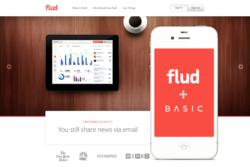 San Diego, California (PRWEB) September 20, 2012
BASIC, a creative agency that connects brands with people, has announced they have been selected as the new Agency of Record for Flud, a groundbreaking, Social News Reader that allows everyone to have a news personality.
As the brand's official Agency of Record, BASIC will provide Flud with comprehensive creative strategy, advertising, marketing, branding, design and identity, website design, video production and motion graphics.
"BASIC put Flud in an interesting position... I didn't want Flud to work with an agency, but we realized quickly that BASIC is everything but. The guys there are young, talented and are pumping out an incredible amount of difficult creative work very quickly, much like we are at Flud. They didn't cut any corners. I know they didn't because I was right there with them during team brainstorming sessions at 2AM, they picked up the phone when I needed to share input at midnight, they pulled all-nighters to perfect our logo's 50 or so revisions, they called off summer vacation days to make sure we were happy. Agencies don't have to do any of that and that's what won BASIC our AOR contract. This team is special," said Bobby Goschel, Founder and CEO at Flud.
Matt Faulk, President and Visionary Director at BASIC, added "Our entire team is very excited about this strategic partnership, and we truly believe that Flud will transcend the way information is consumed. Along with our agency's ability to connect brands with people through the creation of memorable experiences, we also understand the importance of generating and executing effective business revenue models. This well-rounded approach has been one of the main reasons that our agency has seen an influx of Agency of Record relationships with top tier clients, such as Flud.
About Flud:
Founded in October 2010, Flud is a new kind of social News Reader. The company is redefining the relationship between people and content. Flud for iPhone, iPad and Android allows users to discover, consume and amplify interesting news content. Fast Company named the mobile application "Best UI Design of 2010." The company received funding from Detroit Venture Partners and Ludlow Ventures. Flud is privately held and is headquartered in San Diego, with an office in downtown Detroit.
About BASIC:
BASIC is a creative agency that connects brands with people. We believe in the power of design, genuine relationships and memorable experiences.
Our capabilities and services include: branding, retail and digital strategy, website design, advertising, video production, product design and packaging design.
Notable brands include: Hyundai USA, K-Swiss, Dodge/Chrysler, Quiksilver, Sempra, Disney, MTV Nitro Circus, San Diego Chargers, Pepsi and many others. BASIC is headquartered in San Diego, California. For more information about BASIC, visit http://www.thinkBASIC.com.