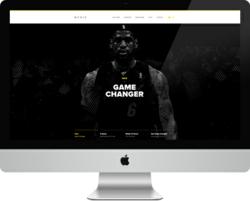 San Diego, CA (PRWEB) September 19, 2012
BASIC, a creative agency that connects brands with people, is announcing the launch of their newly redesigned website – http://www.thinkBASIC.com
"2012 has been a huge year for us, and we're not even close to slowing down," said Matt Faulk, President and Visionary Director at BASIC. "In fact, we're still looking to fill a few more positions and bring on some additional client partnerships as we head into 2013."
"We love our new website," said Chris Welch, Art Director at BASIC. "It was a lot of work, and it was especially difficult because we wanted to ensure we properly showcased our capabilities and the work we produce. Since everyone here is so meticulous and talented, it had to be perfect."
"The new website highlights an updated list of clients, our approach and process with new projects, and a revitalized messaging strategy with copy that speaks to our company mantra, 'Be More Human,'" said Erich Broesel, Vice President and Creative Director at BASIC. "Additionally, we strengthened our agency offerings by taking our most crucial services, laying them alongside our strongest skillsets and then selecting the types of projects we enjoy working on the most. The resulting suite of capabilities represents our perfected BASIC blend."
About BASIC: BASIC is a creative agency that connects brands with people. We believe in the power of design, genuine relationships and memorable experiences.
Our capabilities and services include: branding, retail and digital strategy, website design, advertising, video production, product design and packaging design.
Notable brands include: Hyundai USA, K-Swiss, Dodge/Chrysler, Quiksilver, Sempra, Disney, MTV Nitro Circus, San Diego Chargers, Pepsi and many others. BASIC is headquartered in San Diego, California. For more information about BASIC, visit http://www.thinkBASIC.com.