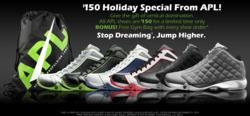 All APL Concept 1 and Concours basketball shoes now $150.00 and include a free APL gym bag with each pair
Los Angeles, CA (PRWEB) November 22, 2011
Athletic Propulsion Labs® announced today a $150.00 Holiday Special on all APL® Concept 1 and Concours basketball shoes which represents a $45.00 savings off the regular $195.00 price. In the spirit of offering online specials this holiday season, APL will also give away a free APL Gym Bag (a $20 value) as a gift (supplies limited) with any shoe ordered through December 31, 2011 from its website, http://www.APLbasketball.com. Designed to instantly increase vertical leap up to several inches, APL's Concept 1 and Concours basketball shoes feature the revolutionary Load 'N Launch™ technology banned by the NBA because they provide an "undue competitive advantage" to the players. The holiday special price of $150.00 is available exclusively online at APLbasketball.com.
The Athletic Propulsion Labs Concept 1 shoe features a carbon-fiber synthetic upper that was inspired by the great carbon-fiber bodied super cars of the world and is currently available in 4 colors with limited quantities of the original black with green trim, and white with black insets and green trim color ways now back in stock. The recently introduced Athletic Propulsion Labs Concours line, inspired by the world-famous Concours d'Elegance auto show, is available in black and cool grey, and features exotic quilted suede uppers with accents of the finest Napa leather reminiscent of the interiors of some of the world's great luxury vehicles. While the Athletic Propulsion Labs basketball shoes have been banned by the NBA, they are legal for use in both college and high school basketball.
To accommodate holiday shoppers, APL has a rush shipping option. To receive orders by December 23, orders must be placed by December 12 (with regular shipping) or December 19 (for UPS rush shipping). Free ground shipping is available on all shoe purchases and any apparel merchandise purchase over $75.
About Athletic Propulsion Labs®:
Athletic Propulsion Labs was founded in Los Angeles, California by twin brothers Adam and Ryan Goldston, two former University of Southern California basketball players. The company is dedicated to the creation of world-class, breakthrough technology that significantly enhances the performance of athletes in a variety of sports. The inaugural product from Athletic Propulsion Labs®, the patented APL® Concept 1 basketball shoe and the recently introduced Concours, feature the revolutionary Load 'N Launch™ Technology. The patent-pending Load 'N Launch™ device is implanted in a cavity in the forefoot of the shoe and serves as a 'launch pad' by taking the energy exerted by the player and increasing lift with the aid of an intricate, spring-based propulsion system. In biomechanical testing at a leading west coast university laboratory, the Athletic Propulsion Labs® Concept 1 shoes delivered increases in vertical leap of up to 3.5 inches when compared against a leading competitive brand's most expensive basketball shoe. The APL® Concept 1 and Concours shoes are sold on the company's website at http://www.AthleticPropulsionLabs.com and normally at $195.00 per pair.
APL's Concept 1 basketball shoes were introduced on March 24, 2010. The NBA ban of the APL® Concept 1 shoes occurred on October 19, 2010 and marked the first time in the 64-year history of the NBA that a shoe was banned because it provided an "undue competitive advantage."
For more information on Athletic Propulsion Labs, please visit the website at http://www.AthleticPropulsionLabs.com or http://www.APLbasketball.com.
Media Contact:
Ashlee McNulty
The UXB
310.229.9098
ashlee(at)theuxb(dot)com
or
Nancy Jane Falk
The UXB
310-229-9098
nj(at)theuxb(dot)com
###