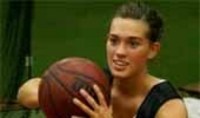 In the past, some athletes say they are initially nervous about the word
Portland OR (Vocus) April 28, 2010
NBC Camps CIC Camp began almost 10 years ago drawing athletes from across the country and also from across the seas. This camp, designed to provide athletes the skills to compete at the college level, has shifted its name to more accurately reflect the type of training provided.
Director Jay Crowell states, "In the past, some athletes say they are initially nervous about the word "Intensity" because of its boot camp connotations. Intensity is more about the mental discipline and tenacity it takes to become a Division 1 college athlete. We are a training ground for the next generation of athletes and we wanted our name change to reflect this."
CIC Training begins outside of Portland, Oregon at Linfield College. Transportation from Portland International airport is available for an extra fee. Athletes train at Linfield for several days then travel to Camp Rilea located on the coast. From Camp Rilea, athletes travel to Portland and finish camp in Portland. All transportation (excluding airport transfer to Linfield), meals, lodging and training are inclusive in the camp cost. Camp participants will also receive training books, two CIC t-shirts, a CIC uniform including jersey with matching shorts, and a CIC sweatshirt.
Jeff Hironaka, Washington State University Men's Assistant Basketball Coach says "I have worked and have known about NBC Camps for 30 years this summer. All I can say that it is the absolutely one of the best basketball camps in the country that you can send your kids to."
Part of the CIC changes for 2010 include the addition of the CIC Female Director of Basketball, Becca Moore. Becca is a former college player who is known for her high level of mental toughness and competitive spirit.
About NBC Camps
NBC Camps began in 1971 as Northwest Basketball Camp. Founder, Fred Crowell wanted to design a program that would provide the best basketball training, create an atmosphere of encouragement, hard work, respect and compassion, and teach athletes to compete not only physically but with their hearts and minds.
NBC Camps partners with US Sports Camps, home of Nike Camps worldwide. Together, NBC Camps works to provide the ultimate sports camp experience. For more information on NBC's College Prep Camp, please visit the company's website at http://www.nbccamps.com/cic or phone 1-800-406-3926.
# # #