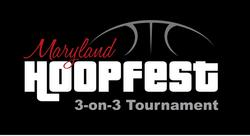 This area has the greatest collection of basketball talent in the country, and we want to find out who the best of the best really are
District Heights, MD (PRWEB) February 28, 2009
In an unprecedented move for the D.C. metro area despite its rich basketball tradition, Maryland-based Spectrum Sports Promotions (SSP) announced Maryland Hoopfest 2009, the biggest and most lucrative 3-on-3 tournament in the region. The event, being held at the Capital Sports Complex in District Heights from April 25-26, is offering more than $20,000 in prize money for the victors in seven different divisions which span every age demographic, ranging from the "elite" division, to recreational, to women's-only, and everything in between.
While Maryland Hoopfest is all-inclusive in nature, SSP has targeted the best players in the area for competition. In the elite division, the grand prize is $10,000, which is thought to be the single-largest prize of any basketball tournament in the region.
"This area has the greatest collection of basketball talent in the country, and we want to find out who the best of the best really are," said Cedar Rihani, President and CEO of Spectrum Sports Promotions. "And with $10,000 up for grabs, we're making it worth their while to prove it."
That isn't to say that the other divisions aren't lucrative as well. The recreational division, the biggest projected group in this competition, has a grand prize of $5,000 at stake.
In addition to the tournament itself, Maryland Hoopfest is also featuring a 3-point contest, food, music, and prize drawings, making for a festival-like atmosphere which caters as much to families and fans as it does to the players competing. Spectrum Sports Promotions has pledged to donate all proceeds from the 3-point contest to a local charity, but competitors need not worry; the 46'' LCD HDTV that is awarded to the winner is theirs to keep.
"Similar events have come through the area in the past, but nothing unique like Maryland Hoopfest, which is as much a celebration of basketball in our community as it is a competition," Rihani said.
"And unlike other tournaments, one great thing about this tournament is that anyone can play: Men, women, young, and old, regardless of skill level. This isn't just for the hardcore players."
Rihani added that the Capital Sports Complex was the logical choice of venue to host this historic event. It features 10 full-length basketball courts, and is large enough to accommodate fans and areas designated for food and other attractions throughout the weekend.
Maryland Hoopfest is currently accepting team registrations for all divisions as well as the 3-point contest. To register for these events or for additional information about the Maryland Hoopfest, visit http://www.mdhoopfest.com or contact the Hoopfest directly at (240) 543-6182.
About Spectrum Sports Promotions:
Spectrum Sports Promotions (SSP) specializes in sport-related event planning, promotions, public relations, and sponsorship opportunities. Its team takes care of every operational detail from start to finish with the ultimate goal of maximizing return on investment. SSP also offers expert consultation in creating promotional programs that complement and enhance clients existing marketing strategies.
###