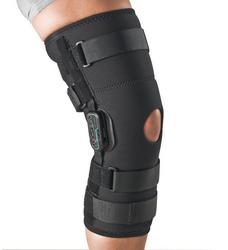 San Diego, California (PRWEB) September 3, 2010
BetterBraces.com, the sports bracing and therapy experts, recommends the DonJoy Playmaker knee brace for basketball players who require extra knee support.
Basketball involves a lot of running and jumping, which causes impact to the knees and can often lead to many different types of knee injuries. Wearing a knee braces can help players reduce the shock to their knees and provide stability to the joints. BetterBraces.com recommends the DonJoy Playmaker knee brace for basketball players because it provides support and is comfortable to wear during a game or practice.
The DonJoy Playmaker knee brace is an ideal choice for basketball players because it provides enough protection for their knees without impeding movement. Constructed with polycentric hinges and DonJoy's 4-Points-of-Leverage technology, this brace helps reduce the strain placed on the ACL, thus preventing possible season-ending injuries.
"Basketball can be extremely hard on the knees and that's why you see so many professional athletes wearing a brace on both knees," explained Jason Zinn, president of BetterBraces.com. "We feel the Playmaker will provide the extra knee stability basketball players need without affecting their performance during a game."
In addition to recommending the DonJoy Playmaker knee brace, BetterBraces.com has an entire section of their website devoted to products that will help protect basketball players from injuries - http://www.betterbraces.com/basketball.
BetterBraces.com also carries a wide array of products that help with relief of knee pain. It is the official source for braces, supports, and therapy products from the industry's leading brands – DonJoy, Aircast, Compex, ProCare, Saunders, and Chattanooga.
Contact:
Alison Terrell
Online Marketing Manager
(760) 579-0214 x104
alisont(at)betterbraces(dot)com
###