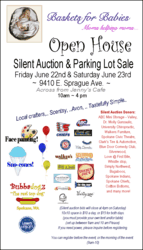 When new mothers are able to provide their baby with a bassinette (or crib) and basic necessities it increases their self esteem and makes for happier, more confident moms
Spokane Valley, WA (PRWEB) June 21, 2012
Baskets for Babies has been donated a building at 9410 E. Sprague and are frantically getting it ready to open on June 25th 2012. Everyone is invited to join them for their open house June 22 – 23. There will be a silent auction and a parking lot sale including many local crafters.
Baskets for Babies is an emergency agency run by volunteers; moms who know what it is like to struggle in life. They supply new mothers with needed items near the birth of their baby, items they are unable to get on their own. All equipment is on a first come - loaner basis. Meaning they loan it the family until they can get their own, or until the baby no longer needs it. Then they pick items up, clean, repair if needed and re-distribute to another family in need. Since February 2010, over 400 families have been helped with cribs, bassinets, diapers, clothing, and strollers.
Baskets for Babies relieves some of the pressures a new baby brings. Simple necessities like a bed and a layette, sleepers, blankets, and diapers make a big difference. When new mothers are able to provide their baby with a bassinette (or crib) and basic necessities it increases their self esteem and makes for happier, more confident moms.
"Once you have been helped by Baskets for Babies, you are part of our family… we offer an ear when no one else will listen and a shoulder when you need somewhere to lean" Tammi McKay – Director, Baskets for Babies.
If you live in the Spokane area, and your children or grandchildren have outgrown items you would like to donate, Baskets for Babies would be happy to pick them up. Call 509-214-2634. There greatest needs are bassinettes, cribs, pack n plays, car seats, strollers, and swings. Most of the families they help do not drive; strollers and double strollers are especially appreciated.
Donation Locations:

Baskets for Babies - 9410 E. Sprague, Spokane Valley, WA 99206
Bugaboos - 14109 E. Sprague, Spokane Valley, WA 99216
Bundle Bean Boutique - 606A North Sullivan Road, Spokane Valley, WA 99037
Mommy & Me Children's Boutique - 1314 S. Grand Blvd., Spokane WA 99204
Spokane Community Warehouse - 919 E. Trent (SE Corner), Spokane, WA 99202
Mother's Haven - 2112 N Government Way, Coeur d'Alene, ID 83814
(Please bag or box clothing and small items and label them clearly with "Baskets for Babies")
Support you community by attending Baskets for Babies Open House this weekend or donate online at http://basketsforbabies.org/donationpage.htm The IRS has classified Baskets for Babies as a tax-exempt organization under section 501(C)(3) of the Internal Revenue Code. Gifts to this organization qualify for a tax deduction to a charitable contribution.
Baskets for Babies can be contacted by phone: 509-214-2634, in person at 9410 E. Sprague Ave. Spokane, WA 99206, and online at http://basketsforbabies.org
Press release distribution donated by Spokane Web Design and Marketing Firm - 2X Sales Results Group LLC