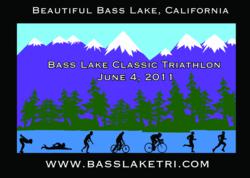 Bass Lake still holds a lot of fond memories for pioneers of the sport, many of whom are still involved. So we're standing on the shoulders of giants to bring back this class event
Bass Lake, CA (Vocus/PRWEB) February 03, 2011
In the early days of triathlon, the popular resort destination of Bass Lake hosted the first ever national championship for the sport. Now a group is reviving the event with the Bass Lake Classic Triathlon, taking place June 4 2011.
Tucson Racing, which has put on world class events at numerous venues throughout the United States, is producing the event. Tucson Racing owner Jonathan Grinder, a USA Triathlon certified race director, said excitement is already growing for the resurrected event.
"Bass Lake still holds a lot of fond memories for pioneers of the sport, many of whom are still involved. So we're standing on the shoulders of giants to bring back this class event," he said.
"Racers back then raved about the venue, about the hospitality and organization. Things have only improved since then, and I'm looking forward to what's going to be a world class event," said Grinder.
The race will include an international distance and sprint distance competition, as well as a 5K run. The race will start at 7:30 am June 4 from The Pines Resort, the host hotel for the event. The swim course will start at the beach at The Pines and head south before going back to the transition area. From there the athletes will ride their bikes along the eastern shore of Bass Lake to the nearby mountain community of North Fork before coming back and riding along the western shore of the lake back to the transition area. The run will wind through the community of Bass Lake.
"It's a beautiful course which is one of the main attractions for a lot of the competitors," said Grinder. "The scenery makes for a fun race."
Bass Lake is a popular summer retreat, located in the foothills of the Sierra Nevada. Named as one of the W2est's Best Lakes by Sunset Magazine, the mix of full service resorts, rustic cabins and camping opportunities makes it a great spot for vacationers looking for just about any type of lake experience. In addition to the triathlon, racers and their families can enjoy boating, skiing, wakeboarding, fishing and just about any other aquatic activity they can imagine.
With the rich history of triathlons at Bass Lake combined with the current popularity of the sport and the attractiveness of the destination and the community support in bringing back the race, Grinder is confident this will quickly grow in to a world class event.
"People here, Bass Lake, did such an excellent job in the past, we want to take what they did and build from their enormous success from their prior experiences. Our goal is to put on a race with all the bells and whistles but retain the spirit of adventure and camaraderie from the early years of this race," he said.
For more information, visit http://www.BassLakeTri.com, or find it on Facebook at http://www.Facebook.com/BassLakeTri
# # #