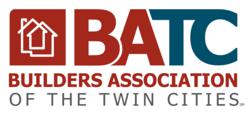 BATC education beats others by a mile. Variety of topics, comfortable room and lunch on site saving time and make it a worthwhile day,
Roseville, Minnesota (PRWEB) January 15, 2013
The Builders Association of the Twin Cities University (BATC U) announces its 2013 catalog of some 30 courses for Minnesota contractors to obtain their required 14 credit hours of continuing education for licensure. In addition, most courses quality for real estate continuing education credits as well.
Courses range from a full day to one-hour sessions. The courses are developed based on feedback from participants each year regarding vital topics, top-notch instructors and changes in statutes and rules. Here are several of the courses for 2013:
Slaying the Dragon: Effectively Resolving Construction Disputes
Managing the Change Order Process to Make Sure You Get Paid What You Deserve
How to Avoid the Looming Insurance Crisis
Regulation of Wetlands in Minnesota
An Introduction to I-Joists and Laminated Veneer Lumber
Residential Contracting Under Attack; Will You Have What it Takes to Survive?
Understanding Residential LED Lighting
Fall Protection – Practical Solutions and Guidelines
Geothermal Technology
Responding to Defect Claims: What Builders Need to Know
Window and Door Flashing Installation Training
Minnesota law requires all licensed contractors to obtain 14 credit hours every two years, of which one hour must be in regard to energy. BATC University's impressive course lineup, taught by industry professionals with direct experience and a practical perspective, will easily achieve necessary course hours.
All BATC University courses are taught at the BATC office at 2960 Centre Pointe Drive, Roseville, Minnesota, in the Association's learning center. The facility offers free parking, and all course participants receive complimentary lunch and refreshments throughout the day, as well as being provided all necessary course materials. Registration is easily achieved at http://www.batc.org (under Quick Links select Builder Credits – BATC U). The cost of BATC U courses is $15 per credit hour for members and $22 per credit hour for nonmembers.