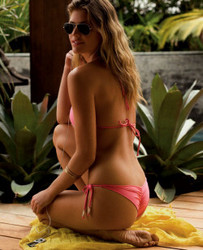 find quality bathing suits at competitive prices
Huntingdon Valley, PA (PRWEB) February 23, 2010
InStyleSwimwear.com, a luxury e-tailer offering one of the largest online selections of brand name bathing suits and women's designer swimwear, announces its latest business development plans. In spite of the nation's slow economic recovery, InStyleSwimwear.com progresses with fresh new strategies to boost sales and enhance the customer experience.
Since its launch, the luxury e-tailer has primarily sold bathing suits from high-end brands, thus targeting a specific niche market; however, this year, InStyleSwimwear.com introduced a number of new designer swimwear lines with significantly lower price points. With new lines from BECCA, GUESS, Banana Moon, Vitamin A Silver, Sofia by ViX and Hermanny by ViX, the company is expanding and attracting a larger market.
In addition, the designer swimwear e-tailer has significantly lowered its shipping rates in order to make the online shopping experience more enticing for customers. With a wide variety of shipping options ranging from free shipping, a flat $5 rate and various express options, InStyleSwimwear.com is updating its company policies to stay ahead of the game.
InStyleSwimwear.com is also taking a new social approach to marketing its selection of brand name bathing suits in order to better connect with its customers. The designer swimwear e-tailer recently initiated various social media marketing campaigns, including launching a swimwear blog, creating monthly Facebook giveaways and offering customer service on Twitter. Although customer service is already available via Live Chat on the company's website, utilizing social media for instantaneous customer service is an innovative new way to engage with customers.
"We understand that the economy is still suffering, so we're doing all that we can to help our customers find quality bathing suits at competitive prices," said CEO Alla Malozovsky. "Like everyone else, we're working on a tighter margin, but the only way we can get through this is to continue moving forward. We're all in this together, and we're positive that we'll get through these tough economic times."
For additional information on the subject of this release, contact Susan Bodack.
About InStyleSwimwear.com:
InStyleSwimwear.com's mission is to offer customers a unique and extensive collection of brand name bathing suits, women's designer swimwear, cover-ups and accessories at competitive prices. To assist in the online shopping experience, the designer swimwear retailer offers superior customer service. They feature premier designer swimwear brands and styles, many of which have been featured on celebrities and in leading fashion magazines.
Contact:
Susan Bodack, Media Manager
InStyleSwimwear.com
888-957-8953, ext. 117
http://www.instyleswimwear.com
# # #