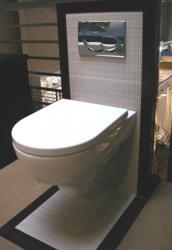 The Bath + Beyond always tries to stay ahead of the curve by bringing new products to the public first
San Francisco, CA (PRWEB) November 15, 2011
San Francisco's bathroom remodeling company, The Bath + Beyond, a decorative plumbing showroom located in San Francisco, now offers Icera Toilets, which feature the latest in contemporary and transitional style elements along with water conservation and efficiency mechanics.
Icera toilets minimize water usage without sacrificing performance. Engineered with hyperion flushing technology, Icera toilets offer a combination of flushing power and exceptional cleanliness with minimal usage. The high efficiency toilets are EPA WaterSense certified, and use 20 to 60 percent less water compared to the average installed toilet on the market today. An average family of four flushes the toilet about 10,000 times per year; by upgrading to Icera toilets, that family could save between 3,000 and 20,000 gallons of water annually – enough water to fill a home swimming pool.
"The Bath + Beyond always tries to stay ahead of the curve by bringing new products to the public first," says Joni Burton, owner of The Bath + Beyond.
Burton was so impressed with the efficiency, design and water conservation of the Icera toilets that she purchased the entire display of Icera toilets at the recent Decorative Plumbing Hardware Association convention.
For more information on the Icera Toilets, contact The Bath + Beyond at 415-529-4891 or visit http://www.bathandbeyond.com. The Bath + Beyond is located at 77 Connecticut St., San Francisco, CA 94107.
About The Bath + Beyond
The Bath + Beyond is a decorative plumbing showroom located in San Francisco. Its state of the art 18,000-square-foot showroom showcases the latest in plumbing, hardware, lighting, cabinetry, countertops and bathroom accessories. They are known throughout the industry for providing decorative bathroom and kitchen faucets and fixtures, as well as custom unique bathroom plumbing fixtures.
# # #