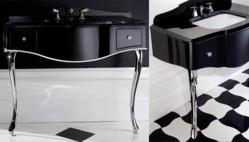 The Bath + Beyond is inviting everyone to its showroom to see firsthand the latest display of products by Devon & Devon
San Francisco, CA (PRWEB) December 24, 2011
The Bath + Beyond, a decorative bathroom accessories and kitchen showroom in San Francisco, introduces exciting new products from Devon & Devon in Italy for its customers and discerning buyers.
"The Bath + Beyond is inviting everyone to its showroom to see firsthand the latest display of products by Devon & Devon," owner Joni Burton of The Bath + Beyond said.
The central theme of Devon & Devon's production is the creation of products that are incomparable, and yet recognizable in the unique way that they draw inspiration from the past. Good looks and functionality, beauty and comfort come together with attention to detail and the use of high-quality, raw materials.
Devon & Devon was born from an idea to repurpose bathtubs, showers, bathroom furnishing and accessories inspired by the atmospheres and the characteristic tastes of the Victorian era to the 1930s of the last century. Over the years, this idea has developed and created possibilities to offer complete and coordinated bathroom furnishings and accessories, and a selection of "timeless" products.
For more information on the Devon & Devon line or any of The Bath + Beyond's products, call415-529-4891, view the store on the web at http://www.bathandbeyond.com or visit The Bath + Beyond at 77 Connecticut St., San Francisco, CA 94107.
About The Bath + Beyond
The Bath + Beyond is a decorative bathroom and kitchen showroom located in San Francisco. Its state-of-the-art, 18,000-square-foot showroom showcases the latest in plumbing, hardware, lighting, cabinetry, countertops and bathroom accessories. San Francisco bathroom remodeling company, The Bath and Beyond is known throughout the industry for its decorative bathroom and kitchen faucets and fixtures, as well as unique bathroom-plumbing fixtures.
###