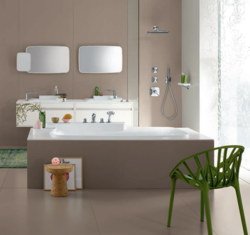 The Bath + Beyond always tries to stay ahead of the curve by bringing new products to the public first
San Francisco, CA (PRWEB) February 28, 2012
Wouldn't it be great if the client's dream bathroom was tailored to his or her needs and desires? French designers Ronan and Erwan Bouroullec are among the most sought after designers in the international furniture industry. The Hansgrohe Axor Bouroullec collection, currently being offered by the San Francisco bathroom accessories company, Bath + Beyond, provides customers more customization options than ever.
"The Bath + Beyond always tries to stay ahead of the curve by bringing new products to the public first," Joni Burton of The Bath + Beyond said. "I invite everyone to our showroom to see firsthand the latest display of products by the Hansgrohe Axor Bouroullec collection."
Axor Bouroullec is a collection that is not constrained by a rigid pattern. In fact, its more than 40 bathroom products--from faucets and accessories to washbasins and bathtubs--allow clients the freedom to create a configuration that best suits individual needs. For example, the position of the faucet is not predetermined. The client can decide where to locate the spout and handles above, on top of and around the washbasin. Shelves integrated into the washbasin permit flexible positioning of the spout and handles or provide space to store personal items.
The philosophy of French designers Ronan and Erwan Bouroullec is, "the objects must be flexible in their application." For this reason, all creations of the Bouroullec brothers are based on a distinct design approach where the products intuitively respond to the user's needs. Ronan and Erwan Bouroullec leave it up to the client to envision a use for their design objects.
For more information about the Hansgrohe Axor Bouroullec collection or any of The Bath + Beyond's products, call 415-529-4891, view the store on the web at http://www.bathandbeyond.com or visit 77 Connecticut St. in San Francisco.
About The Bath + Beyond
The Bath + Beyond is a decorative bathroom and kitchen showroom located in San Francisco. Its state-of-the-art, 18,000-square-foot showroom showcases the latest in plumbing, hardware, lighting, cabinetry, countertops and bathroom accessories. The Bath and Beyond is known throughout the industry for its decorative bathroom and kitchen faucets and fixtures, as well as unique bathroom-plumbing fixtures.
###