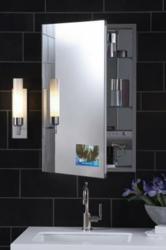 Medicine cabinets are seeing a resurgence in popularity, thanks in part to a series of high-tech makeovers.
(PRWEB) June 13, 2013
HomeThangs.com, the Online Home Improvement Store, has made their goal to deliver the right product to the consumer. With that in mind, shopping and home design tips, as well as special product selections are being introduced.
Every bathroom has a mirror, but not all bathroom mirrors are created equal. Some are framed and others frameless, some with built in storage, lights, or other features, and many more without. But with so many choices, it can be a little difficult to know which is the right one. HomeThangs.com has released an overview of all the different types of bathroom mirrors out there to help simplify the decision.
1. Frameless Bathroom Mirrors
Popular in high design, especially in larger bathrooms, frameless mirrors take up all the space on the wall above the vanity, from the top of the backsplash or nearly all the way up to the ceiling, and often all the way across the wall horizontally. Frameless mirrors are made of a single large piece of glass, and so can be quite expensive, but offer the fullest reflection of any type of bathroom mirror. They don't have any storage, but can help make a bathroom seem much larger than it is, and can easily be used by multiple people at once.
2. Framed Bathroom Mirrors
These simple, relatively small bathroom mirrors are frequently packaged with pre-made bathroom vanities. Designed to be hung at face height, they offer much less coverage than a frameless mirror, but will get the job done. Framed bathroom mirrors don't come with any storage (though framed, recessed medicine cabinets offer much the same look with included shelving) but often have a sort of homey appearance to them. They also work especially well in pairs, with one mounted over each basin in a double sink vanity.
3. Decorative Framed Mirrors
Technically, decorative framed mirrors are just framed mirrors, but rather than simple rectangular or oval shaped wood frames, these feature elaborate carved wood details or painted accents, sometimes in unique shapes. Decorative mirror frames are often packaged with traditional or antique style bathroom vanities to help coordinate the wood work between the two. Stylish art piece mirrors can also be purchased separately to dress up a simple modern decor.
4. Storage Mirrors
Storage mirrors are becoming more popular in modern bathroom design, and can frequently be found packaged with efficient modern vanities. Essentially, these are a compromise between framed mirrors and medicine cabinets, replacing a simple rectangular frame with ledges for storage, small cubbies or shelves, and even small hand towel bars. The storage component doesn't block the bathroom mirror, of course, and is typically made out of the same material as the vanity (like a frame). It also allows for over-the-sink storage without having a large swing-out door like a medicine cabinet.
5. Medicine Cabinets
The old stand by of bathroom storage, medicine cabinets are seeing a resurgence in popularity due to a series of high tech upgrades. In addition to the conventional hidden shelf storage, many popular medicine cabinets are beginning to feature a whole host of luxury features, like built in TVs and sound systems, integrated outlets and cold storage, and even automatic night lights. Rather than a utilitarian fixture, these new medicine cabinets are the perfect addition to a spa-like luxury bathroom.
6. Backlit Mirrors
The trend toward high tech features extends to other types of mirrors as well, most notably the backlit mirror. These are bathroom mirrors with lights installed either directly behind or right into the surface of the mirror, so they shine directly outwards, eliminating the unsightly shadows cast by overhead lights. These can either be purchased pre-made or custom built, depending on the size of the mirror and size, shape, and placement of the lights.
To see more examples of these gorgeous mirrors, read the full article here.
HomeThangs.com is not only a home improvement superstore, it also provides expert design tips and a comprehensive shopping guide, taking the ideas from professional interior designers, and offering tips to the consumers on how to pick the products to best suit their needs.