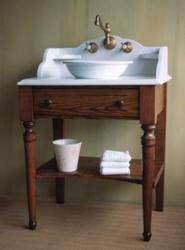 Since there are so many ways to play with design, and sometimes it gets hard to decide on the style, it is very helpful to look at the history of bathroom design – or, specifically the history of bathroom vanities and how they've changed over the years.
(PRWEB) January 30, 2013
HomeThangs.com – the Home Improvement Super Store has made their goal to deliver the right product to the consumer. With that in mind, shopping and home design tips, as well as special product selections are being introduced.
From historical restorations to the most contemporary spaces, the bathroom is probably the most fun place in the whole home to play with design. Since there are so many ways to play with design, and sometimes it gets hard to decide on the style, it is very helpful to look at the history of bathroom design – or, specifically the history of bathroom vanities and how they've changed over the years. With that in mind, HomeThangs.com introduced a quick guide on the evolution from antique to modern in bathroom design.
1. Bathroom Vanities Pre-Plumbing
The original bathroom vanities bore almost no resemblance to what the term probably makes one think of today. In fact, until just a little over a hundred years ago, the bathroom as a whole didn't really exist. The very first "bathroom vanities" were really washstands, something like the Bonne Maman from Herbeau. These small wooden tables sat somewhere in the bedroom, equipped with a pitcher full of water and a bowl to wash the face and hands first thing in the morning.
2. The Beginning of the Bathroom
It wasn't until the Victorian era that bathrooms became their own separate rooms and started to resemble what we would think of as a modern bathroom. It's also when we started to perfect indoor plumbing. At this stage, "bathroom vanities" evolved into wall mounted sinks, like, for instance, the China Sink from Whitehaus. At the time, all sinks would have had two faucets – one hot tap and one cold one. These served largely the same function as the old fashioned washbasin, but with hot water and a self-emptying drain.
3. Victorian Ideal of Bathing
During the Victorian Era and continuing into the Edwardian period, it as widely believed to be beneficial to health, especially for women, to remain in the nude as long as possible after bathing. As such, bathrooms during this period were less utilitarian than the ones we have today, outfitted with exotic wood and lush fabrics and furnishings. Bathroom vanities began to reflect this, in the form of neoclassical pedestal sinks and shapely, leggy console vanities that mirrored the form (and functionality) of aristocratic dressing tables.
4. Bathroom Vanities as Bathroom Furnishings
For this reason, for many years the bathroom was treated as something of an extension of the bedroom rather than it's own private space. As indoor plumbing improved, console vanities evolved into more functional (actual) bathroom vanities. These were often based on the design of furniture – dressing tables, chests, or cabinets – one might find elsewhere in the home, like, for example, the Lorraine Vanity from Cole+Co. Based on the traditional French Bombe chest, it has all the elaborate woodwork and hand finished detailing expected to be found on furniture in the rest of the home. This is the first true bathroom vanity, at least as we know it today, and an influence that can still be seen in design today.
5. Transitioning From Tradition
Over the last hundred years, these furniture-style bathroom vanities have gradually become more simplified. Transitional bathroom vanities maintain the form of antique furniture styles, but rather than having elaborate floral carvings and detailed column style borders, these embellishments are stripped away in place of simpler lines. This creates a new type of bathroom vanity, like the Glenayre Vanity from Xylem, for example, that nods toward the elegance of Victorian parlor or bedroom style baths while making them more casual and comfortable for a more modern setting.
6. Contemporary Comfort (Or: Modern Minimalism)
In fact, many contemporary bathroom vanities minimize design even further, shifting from beautiful furniture to pieces with straightforward 90 degree angles and smooth, simple lines, like Devon Vanity from Ronbow for example. This minimalism is inherent in modern design, and is steadily gaining in popularity for the simple reason that it's easier to live with. We all know that formal dining rooms are being replaced by comfortable, casual kitchens, and the same trend is true in bathrooms. These days, there's a strong emphasis on simplicity and utility, not at the cost of beauty The aim is twofold: building a vanity that's simpler and more intuitive to use, while fostering beauty in that simplicity.
HomeThangs.com is not only a home improvement superstore, it also provides expert design tips and a comprehensive shopping guide, taking the ideas from professional interior designers, and offering tips to the consumers on how to pick the products to best suit their needs.