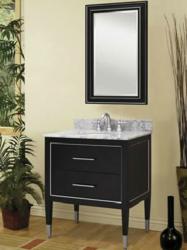 Black bathroom vanities are the "little black dress" of the bathroom.
(PRWEB) December 20, 2012
HomeThangs.com – the Home Improvement Super Store has made their goal to deliver the right product to the consumer, with that in mind, shopping and home design tips, as well as special product selections are being introduced.
Everyone knows about the little black dress – the one just-right, all-occasion dress that makes one feel as good as it makes one look. Black is both classy and classic, simple but stunning, and the perfect way to go in order to get dressed up. Black works well not just for dresses. Black bathroom vanities are the LBD of the bathroom. HomeThangs.com introduced a tip sheet to help the consumers find just the right one to make their bathroom shine, no matter what the personal style.
1. Dress Up the Cottage Chic
Typically, for country cottage bathroom design a white bathroom vanity paired with white beadboarding on the walls is a must have. But swapping from white to black bathroom vanities is the perfect way to dress up a turn of the century style, adding dramatic visual interest and even a little extra sophistication. In the same way a white dress is light and springy, black bathroom vanities like the Lutezia Modernique from Porcher offer the opposite: something a little more formal, and a little more daring.
2. Improving On Tradition
2013 bathroom trends are moving away from tried-and-true traditional designs and more towards the modern. But for those who happen to like more traditional bathroom vanity designs, a good way to keep the style while also keeping the bathroom on trend is to add a simple coat of black paint. Antique bathroom vanities are often made to showcase beautiful, natural wood, and are decorated with elaborate hardware, both of which can be a little too busy for a contemporary bathroom space. But black bathroom vanities like the Torino Vanity from RonBow are able to maintain a maybe slightly simplified traditional form because the simple black paint (and simpler hardware) help streamline and update the style for a more modern use.
3. Modern Mystique
There's a reason that black is one of the most dominant colors in modern design. Modern design is all about simplicity and sophistication. Traditional bathroom vanities get their luxurious look from wood, woodwork, hand painted details, and elaborate hardware. Modern design strips all that away and forces designers to look elsewhere for elegance. Black seems to be the answer, still uncommon enough to be bold and with an air of formality. This is true with black bathroom vanities, too. Paired with some bright silver accents – like the trim, drawer pulls, and feet on the Richview vanity from Sagehill Designs – is eye catching and modern, even without a whole lot of showy detailing.
4. Urban Chic
For those that want the best of both worlds – ornate antiques and sleek modern styles – something the Boheme Vanity from Iotti is a way to go. In terms of black bathroom vanities, these are typically a little simplified in design, often with a glossy finish that makes them ultra modern despite the luxury and sophistication registered due to the antique inspired design. Perfect for an urban chic decor that borrows old world sophistication for an extremely modern style.
5. A Little Age
That said, not all black bathroom vanities are necessarily super formal or posh looking. In fact, black paint opens up an excellent opportunity to add a little age to the bathroom (in a good way) with a weathered finish. Antiqued white bathroom vanities can be hard to pull off, because when white gets old, it gets dingy. But when black paint ages, instead of looking stained, it just gets roughed up a little around the edges, hiding the bad wear and tear and offering something that looks homey and lived-with. The Guild Hall vanity from Kaco is a great example, with a distressed black finish that wears all the way through in places – but just enough to add character.
6. Unique Designs
Because black is such a bold color choice, one can also find many more black bathroom vanities in interesting or unusual designs than in any other color. This is partly due to the penchant for black in modern design, and partly because any other color (with the possible exception of white) would make most intricately designed bathroom vanities simply look too busy. But in black even a very complex design, like the Ronde Vanity from Virtu, is made simple, elegant, and interesting.
7. Cool Contrast
For those who prefer the simpler, more minimal aspect of modern design, though, black bathroom vanities won't fail there either. As with many modern bathroom vanities, black ones are available in all the simple, sleek, squared designs that make up the bread and butter of modern bathroom design. Of these, though, the most interesting ones are the ones that create visual interest in the simplest way: by adding contrast. The Wall Mounted vanity from Vigo is about as simple as simple gets, but the white vessel sink and shiny chrome handles create a little pop of contrast that's simple, but elegantly eye-catching, perfect either for a simple modern design or a showier black and white bathroom.
HomeThangs.com is not only a home improvement superstore, it also provides expert design tips and a comprehensive shopping guide, taking the ideas from professional interior designers, and offering tips to the consumers on how to pick the products to best suit their needs.