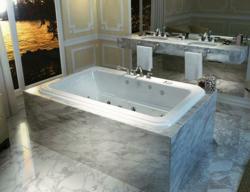 A big, grand drop-in bathtub has to be given the treatment it deserves. In a bigger bathroom, that means not just building a simple mount but fully staging the tub.
(PRWEB) December 12, 2012
HomeThangs.com – the Home Improvement Super Store has made their goal to deliver the right product to the consumer, with that in mind, shopping and home design tips, as well as special product selections are being introduced.
The two most popular luxury bathroom additions are, generally speaking, are sprawling walk-in showers and big, luxurious soaking or whirlpool tubs. But while most people probably realize going in that building a new shower from the ground up means lots of tile work, one might not realize that many designer bathtubs – especially whirlpools and other drop in bathtubs – require similar finishing treatment. Freestanding bathtubs take care of themselves, but to get a more sophisticated drop-in bathtub look, one would need to spend as much time planning the bathtub mount as deciding on the tub itself. HomeThangs.com introduced a tip sheet with a few ideas on how to get started with a project to get the most of that nice custom drop-in tub design.
1. Easy Does It
One of the simplest ways to integrate a new drop in bathtub into a bathroom is to build a bathtub mount out of the same tile used for the floor. Because bathroom tile flooring should be water tight and slip proof to start, there shouldn't be any conflicts of interest (so to speak) in the type or quality of material, and it means the drop in bathtub can be installed at the same time as the rest of the floor. The biggest advantage of this type of installation, though, is that it visually integrates the bathtub into the rest of the bathroom, offering a stately, sophisticated look and a nice sense of grandeur.
2. Step It Up
A big, grand drop-in bathtub has to be given the treatment it deserves. In a bigger bathroom, that means not just building a simple mount but fully staging the tub. At the least, that means including at least one elegant step up to help getting in and out of the tub. If really feeling bold, one can turn a bathtub mount into something more ornate. Turning a simple bathtub mount into a whole raised window seat with a beautiful stone surrounding, for instance, is a great way to turn that bathtub into a place one can really unwind and feel pampered.
3. Get Down
One of the nicest looks for a drop-in bathtub (and, of course, one of the most complicated and expensive to pull off) is mounting the tub directly into the floor, although this definitely has its limitations. It is important to make sure there is enough room under the floor for the underside of the drop in bathtub (and any mechanisms, if it's a whirlpool), that space has to be hollowed out, and a wooden support frame has to be built inside it. But the final result is pretty spectacular, with a seamless finish and pool-like step-in bath that will open up the bathroom space and add a totally unique visual flair. This design works especially well in nature or Asian inspired bathrooms with a lagoon-like feel and a little extra open space. If being a little short for space between the current level of the floor and whatever happens to be beneath it (a ceiling or foundation), one can combine a step-style bathtub mount and a floor-mounted installation with a small, elegant step. It will give however many extra inches of space, needed to make installing the drop in bathtub doable, while still more or less maintaining the in-floor look, as well as the open-air feel this type of installation affords.
4. Faking Freestanding
Those fallen in love with a particular tub that happens to be a drop-in, but aren't big on the idea of building an elaborate bathtub mount for it, can find a middle ground. Instead of the big, sprawling designs, one can build a bathtub mount more closely fitted to the contours of the bathtub. Especially for an oval shaped tub, this can mean a smaller footprint and a sleeker finish. That said, tile isn't particularly curve-friendly, so to go this route, one would probably need to opt for a (more expensive) custom cut stone, or a more flexible material like wood, to pull it off.
5. Wood Finish
While most drop in bathtub mounts are made of stone, ceramic, or porcelain tile, wood finish also offers a spectacular, luxurious look. While tile of any kind has a more classic look to it, wood can leave a very different impression. For example, a bathtub mount made of laminate with a simple wood-inspired pattern fits much better with a modern decor than a marble mount would.
Like in-floor tubs, wood finished tub mounts also work incredibly well with drop in bathtubs to create a luxurious, natural feel. Choosing simple wood paneling rather than tile or expensive custom cut stone can give the bathroom a more natural, casual finish. In this same light it's important to remember that not every drop in bathtub has to be mounted in tile. After all, the weight-bearing part of the bathtub mount is the wood frame. Anything that goes on top of that is pure aesthetics. Even simple panels of wainscotting or beadboarding can be added, or even an elegant crown molding to help camouflage and integrate the bathtub into a historical bathroom, and on a much smaller budget.
HomeThangs.com is not only a home improvement superstore, it also provides expert design tips and a comprehensive shopping guide, taking the ideas from professional interior designers, and offering tips to the consumers on how to pick the products to best suit their needs.